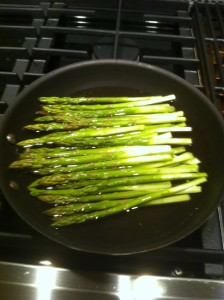 As a kid, I only ate canned asparagus. Well, when I say eat, I mean, put it in a napkin under the table and throw it away without my mom seeing me because canned asparagus is raunchy! Oops, I digress.
If you want to know the proper way to prepare asparagus for fantastic results every time, check this out!
Level of Difficulty: Easy Time Required: Prep Time – 10min; Cook Time – 3-8 min
Ingredients:
1 bunch of asparagus
Depending on how you are cooking it, there are several other ingredient needs. See below for a few options.
Special Equipment and Other Items Needed:
Vegetable Peeler

How to prepare asparagus:
Want to know how to prepare asparagus? Regardless of your cooking method (stove, grill, roasting, etc.), you should always follow these same few steps to prepare asparagus.
Here are the steps to cook asparagus:
1) Pick quality asparagus at the store. How do you pick asparagus at the store? I prefer the stalks that are not too thick or too skinny. Usually about the size of pencil or maybe just a bit thicker. Check the tips of the asparagus for any mushy parts and avoid those bunches. Check the ends to make sure they are not too dried out.
2) Cut off the ends. I usually leave the asparagus in the rubber bands for easy cleanup. You'll want to cut at least an inch off the bottom (I usually cut about 2 1/2 inches). The best way to know where to cut is to take one stalk between the fingers of both of your hands and bend until it breaks. Where it breaks is the ideal spot to cut. It might seem like a waste but remember that asparagus grows in dry regions in sand and that bottom part is extremely tough. Get rid of it!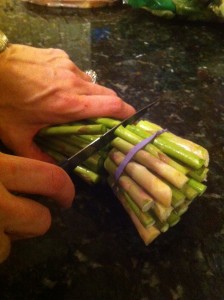 3) Rinse the asparagus
4) Peel the ends. I generally peel about the bottom half of the remaining stalk. This is time-consuming but it is amazing how much of a difference this makes. If you are crunched for time, skip this step but never skip it for company. You can do this in 1-2 days in advance of your meal.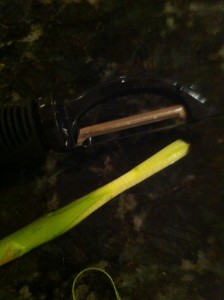 5) If you have the time, let the asparagus soak in cold or icy water. This can be for 5 minutes or 2 days. Whatever time you devote to it, you will be rewarded with crisp and hydrated asparagus!!
Your asparagus is prep'd and ready for whatever cooking method you choose. Come back soon for some of the following recipes we will be posting:
How to cook asparagus on the stove with a nice vinaigrette?
How to roast asparagus in the oven?
How to grill asparagus?
How to make asparagus wrapped in prosciutto?
Important Tips:
It really is important to pick fresh asparagus (don't be afraid to change your plans if it does not look good and serve a different vegetable), cut off the dry ends, peel the bottom half that's left, and rehydrated in cold water.