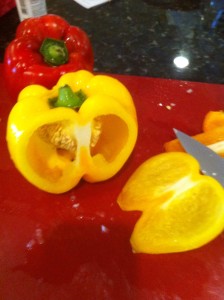 This is the quickest and easiest way to cut, slice, juilliene or dice any type of pepper. It is shown here with bell peppers but would work with all kinds. Remember, when you are cutting hot peppers, wash your hands promptly when finished and be sure not to touch your face/eyes or any other "tender" skin. If you have latex gloves, those work great but if not, I will put my non-cutting hand in a plastic bag to hold the pepper.
How to Cut a Pepper
1 – Wash the pepper.
2 – Stand up on the bottom of the pepper if a bell pepper. Other peppers with pointy ends should be set on their side.
3 – Slice the pepper's side off. Be careful not to go towards the center of the pepper. This allows you to get the 'meat' without the ribs and seeds.
4 – Turn the pepper and cut again. You should be able to cut 4 sides off the pepper.
5 – With Bell peppers, you can then cut the bottom off in the same way.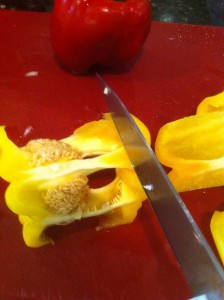 How to Julienne or Dice a Pepper
6 – You now have 4 or 5 sides of the pepper without ribs and seeds that you can julienne or dice.
7. Julienne means to cut into long thin strips. This is great to top salads or for decorations.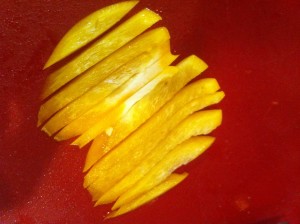 8. To dice a pepper, you need to do steps 1-7, then just turn the julienne strips sideways and chop into small bits. This is best for sautéing into braising dishes, etc.