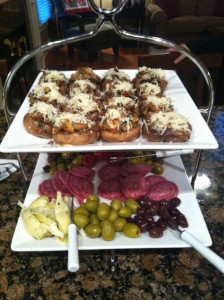 Stuffed Mushrooms is one of the first appetizers I ever made. It's easy, elegant, and a huge crowd pleaser. I made them a few days ago for a birthday gathering I was having for my husband and it got rave reviews. My sister put it in my binder so you know it has stood the test of time. I have changed it up a bit, but not much. There is really no need!!
Level of Difficulty: Easy
Time Required: Prep Time – 20-25 min; Cook Time – 10 minutes
Ingredients:
1 pound of mushrooms (about 18)
1/4 c. butter, melted
2 T. butter
1/4 c. green onions, finely chopped
1/4 c. sherry
1 c. Pepperidge Farm Herb Seasoned Stuffing or Stove Top
4 gloves garlic, crushed
1/4 c. shredded parmesan
Special Equipment and Other Items Needed:
Foil
Saute Pan
Baking Sheet
Preparation of Stuffed Mushrooms:
Preheat the oven to 350 degrees. Take the stems out of the mushroom cap. Set mushrooms caps aside. Melt 2 T. butter in a sauté pan. Add the mushroom stems, green onions and garlic. Saute 5 minutes. Add the sherry and stuffing. Cook about 10 minutes until the stuffing is moist. Dip the mushroom caps in melted butter and stuff with the mixture. Place on baking sheet and cook for 10 minutes. As soon as the mushrooms come out of the oven, sprinkle with parmesan cheese.
Important Tips:
The key is to make sure the stuffing mixture is moist. If you think it's too dry, add a bit more butter or sherry.