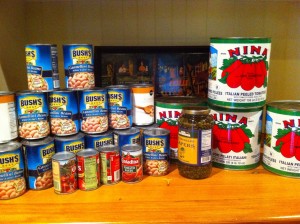 Well, what it is about step 8 of our 10 step plan? Yes, step 8 is "Expect the Unexpected" (see Entertaining with Ease) and today has been a case study on expecting the unexpected.
The morning started off with the usual routine but quickly my 'day job' required most of my attention. That's ok because it is what pays the bills. However, I got started with the preparation a lot later than I planned. Then, more unexpected. My usually responsible daughter let me know she had a science experiment to do tonight and it is due tomorrow (can we say pro-cras-tin-a-tion!). Then, I under estimated how much time it takes to reduce sauces when you are multiplying recipes by 10. Fun, fun, fun.
Oh well. Suffice it to say, it was a long night and I changed some of the original plans on what I was doing the day before versus the day of. After "texting it through" with Denise, we decided we can get more things done the day of since she will be playing the role of super woman! Thank goodness for that!
Today's activities included, (1) Completing all the shopping (ended up way under budget, yea!) (2) Making the base for the white bean ragout (3) Making the Red-eye Glaze (4) Seasoning all the pork tenderloins (5) Cutting herbs from my garden (6) Packing everything to go in the morning (7) Finalizing the updated timeline list for the modified "day of" list.
Here are some of the highlights of the day.
1. Mountain of onions / shallots that made me cry my eyes out for at least an hour. Thank goodness for food processors!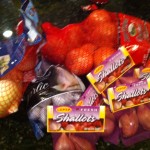 2. Wondering why I have this weird aversion to electric can openers on a day like today!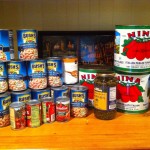 3. Ham browning for Red-Eye Glaze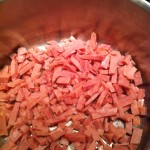 4. Shallots galore for the glaze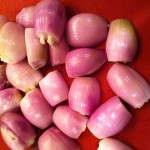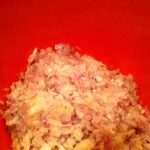 5. Adding the coffee to the Red-Eye Glaze and wishing I'd made a cup for myself. I guess wine will have to do!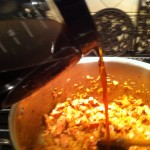 6. Red-Eye Glaze after 2 hours and after 4 hours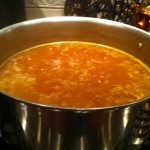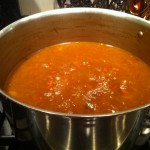 7. Beginnings of the White Bean, Tomato and Chorizo Ragout – for you Words with Friends fans, this is called a sofrito.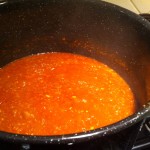 8. Finished White Bean Ragout minus the White Beans. I started cutting onions and garlic for this at 2:30 and turned it off at 10:30pm!! When I made this in a normal size portion it took me 30 minutes. It takes a lot longer to reduce 3 liters of wine than 1 cup of wine! Duh! I opted to not add the beans tonight primarily because they would not fit in my pot. I'll add them first thing in the morning when I arrive at church so they can absorb all this yumminess (tons of garlic Mr. Gaile!).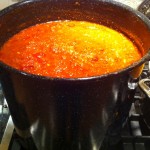 9. The pork tenderloin with its dry rub of kosher salt, ground pepper, cayenne and brown sugar. Now, that is a lot of meat!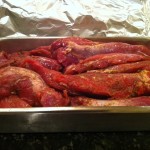 If you missed Part 1 of this series, you can find it here.
Anxious to know how it all turned out? On to Part 3