Not only are these garlic green beans easy to make, but adults and kids both love them and they are perfect for a crowd! These are actually my daughter's favorite vegetable, so I try to make them about once a week. I made them a few days ago for some friends and one of them asked if she could have the leftovers. Of course, I gladly gave them to her. She sent me a text the next morning saying she couldn't wait and ate them for breakfast. Am I suggesting garlic green beans before lunchtime, no? What I am saying is that they are so good you really can enjoy them at anytime!!
Level of Difficulty: Easy
Time Required: Prep Time – 10 min; Cook Time 10 min.
Ingredients:
1 lb. green beans ("fancy" green beans / haricots vert, not big fat ones like pole beans)
1 T. olive oil
1 T. Butter
4-6 cloves of garlic
Salt and pepper to taste
Preparation of Garlic Green Beans:
Trim and rinse the green beans. Place in a pot of boiling, salted water and blanch for 3-4 minutes. Immediately drain the green beans and transfer them to bowl of ice water to "shock" them. Drain the green beans and pat dry. Put the olive oil, butter and garlic in a saute pan and heat over medium heat until the butter is melted. Add the green beans and saute for about 5 minutes. Add salt and pepper to taste.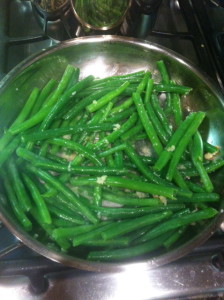 Making Ahead:
You can blanch the green beans a day ahead of time and seal in a ziploc bag with a paper towel to keep them from being too moist. Keep in the refrigerator until about an hour before you want to cook them.
Variations:
If you want to add a little something extra, throw in some thinly sliced almonds at the end of cooking!

Important Tips:
You must salt the water if you want the beans to have flavor.
Blanching and Shocking the green beans is also critical. This brings out the vibrant green color and keeps it there. Otherwise the beans will be a dull, olive green color.