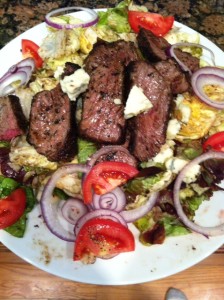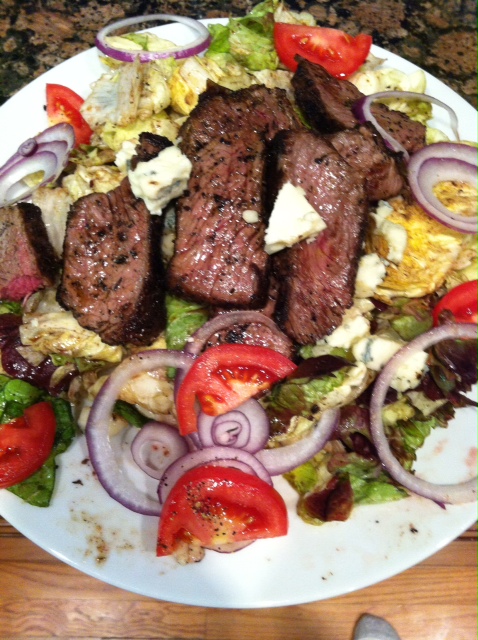 My husband loves steak and I love salad. When I combined both into one dish it was a win-win for everyone. Bon Appetit published this recipe for blackened steak salad from the Chicago Chop House several years ago.
Level of Difficulty: Easy
Time Required: Prep Time – 10 min; Cook Time – 10 minutes
Ingredients:
SPICE MIXTURE:
1 T. Paprika
2 t. ground black pepper
1 1/2 t. salt
1 t. garlic powder
1 t. cayenne pepper
1/2 t. dried oregeno
1/2 t. dried thyme
VINAIGRETTE AND SALAD:
1/4 c. olive oil
2 T. balsamic vinegar
1 t. dijon mustard
6 cups mixed baby greens
1/2 green bell pepper, thinly sliced
1/2 c. thinly sliced red onion
2 5-6 oz. beef tenderloin (filet mignon) steaks, about 1/2 inch thick
3 T. butter, melted
6 T. crumbled blue cheese (about 3 oz)
1 tomato, quartered
Special Equipment and Other Items Needed:
Good quality skillet
Here's a good one:

Preparation of Blackened Steak Salad:
For the spice mixture: Mix all ingredients together in a bowl. (Can be made up to a week ahead and stored in an airtight container).
For the salad: Whisk oil, vinegar, and mustard in large bowl to blend. Season with salt and pepper. Add greens, bell pepper, and onion and toss to coat. Divide salad to two plates.
For the steaks: Coat both sides of the steaks with the spice mixture. Dip both sides of the steaks into melted butter. Heat a heavy large skillet over high heat until very hot. Add steaks and cook to desired doneness, about 2 minutes per side for medium rare. Transfer to cutting board and let sit for about 10 minutes before cutting. Thinly slice steak against the grain. Arrange slices atop salad. Sprinkle with blue cheese. Garnish with tomato and serve.

Variations:
In the salad, I omit the green peppers since my husband doesn't eat them.
Meal Ideas:
Chicago Chop House serves this with roasted red skinned potatoes and sautéed mushrooms on the side. For a salad, serve with a nice warm piece of bread.