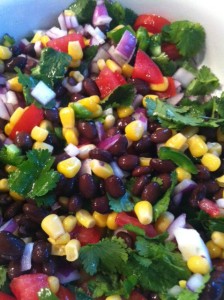 Southwestern Black bean and corn salad is a side dish I often make for a crowd when having a Mexican themed dinner. It is easy, cheap, colorful and serves a lot of people. You can kick up the spice by adding more jalapeños or tone it down by adding less.
Level of Difficulty:Easy
Time Required:Prep Time – 20 min; Chill time: At least an hour
Ingredients:
2 cans of sweet corn (not creamed corn)
2 cans of black beans, drained and rinsed
6-8 fresh jalepenos, seeded and chopped
1 bunch of cilantro, washed and snipped
1/2 red onion, chopped (see how to chop an onion )
1 tomato, chopped
Juice of 4-6 limes
Salt and pepper to taste
Preparing Southwestern Black Bean and Corn Salad:
Empty the corn, WITH the liquid into mixing bowl. Add all other ingredients and mix well. Add salt and pepper to taste. Cover and let chill in the refrigerator for at least one hour before serving.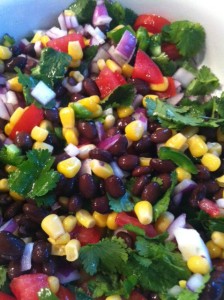 Important Tips:
Remember to use a serrated knife when chopping or slicing a tomato. Also, don't forget to wear gloves when seeding the jalapeño. If you need a knife, Melissa's favorite is Henckles:
Got Leftovers?:
When I have leftovers of this, I will often put it on a salad with some leftover chicken and make my own version of a taco salad.