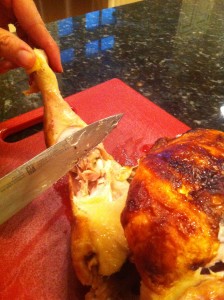 After posting a recipe for roasting a whole chicken (Spicy Roasted Chicken), we received a lot of feedback on how to cut up the whole chicken into 8 distinct pieces that are still presentable to serve to your guests.  Well, after a lot of fighting, clawing, screaming, pulling hair, etc., Melissa drew the short straw and had to do the video.  This is not easy enough to write down, it really needs to be demonstrated. This is a bit amateur video so bear with us while we learn better methods, but this still gets the point across.
So, voila! Here is McNack's Kitchen's first video on how to cut up a whole chicken.

We've gotten better at videos since we did this one. Check out some of our others under the Category – Video.