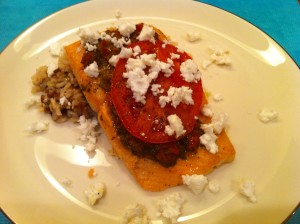 Want a great, fresh recipe that takes less than 15 minutes to make! This Broiled Salmon with Basil Pesto, Tomato and Feta is a super easy recipe that is ready in just a few minutes.
Level of Difficulty: Easy
Time Required: Prep Time – 10 min; Cook Time – 10 min
Ingredients:
2 salmon filets (not salmon steaks)
4 T basil pesto (store bought or homemade)
2 slices of nice, ripe tomatoes
4 T quality feta cheese, crumbled
Special Equipment and Other Items Needed:
Parchment Paper (optional)
Preparing Broiled Salmon with Basil Pesto, Tomato and Feta :
Pre-heat oven to 450 degrees. Place salmon on parchment paper on a baking sheet. Season the salmon with salt and pepper. Spoon 2T pesto onto each salmon filet. Top with a slice of tomato. Season the tomato with salt and pepper. Place salmon in oven and cook for about 8 minutes if you like the salmon a bit on the 'rare' side like I do (and you trust your fish source for freshness). Maybe 10 minutes if you want it cooked a bit more. You really don't want to overcook it as it will taste like salmon out of a can. Sprinkle with feta. Serve immediately!
Variations:
The feta is optional. I also tried this most recently with a sun-dried tomato pesto that was nice too.
Meal Ideas:
Serve with a fresh salad with a nice vinaigrette or with a steamed or roasted vegetable.