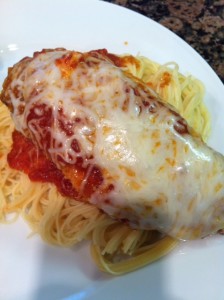 Chicken Parmigiana is delicious, I mean, who are we kidding? However, we also know that it isn't exactly the healthiest dish in the world. Well, here is a way to make it without all the guilt!
If you like the traditional method that has a bit more fat, we'll be posting that soon.
Level of Difficulty: Easy
Time Required: Prep Time – 10 min; Cook Time 35 min.
Ingredients:
4 chicken breasts, pounded thin for even cooking
6 T.  melted butter
1/3 c. grated parmesan cheese (now is when you can use the stuff in the green container)
1/3 c. Italian breadcrumbs
1 tsp. garlic salt
1 tsp. paprika
1/2 tsp. pepper
4 slices of provolone cheese (or shredded cheese if you don't have sliced)
1 jar of favorite marinara
Preparing Chicken Parmigiana (Light Version):
Preheat oven to 375 Degrees.
In a bowl, combine the parmesan, breadcrumbs, garlic salt, paprika and pepper. Dip the chicken the melted butter. Coat both sides of the chicken with the parmesan mixture.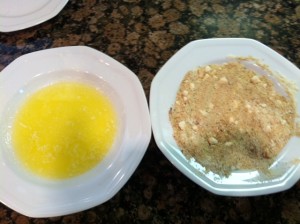 Place chicken in 9×13 baking dish lightly coated with non-stick cooking spray. Bake for 25 minutes. Remove chicken from oven and pour enough sauce over each chicken breast to coat the chicken. Layer cheese on top.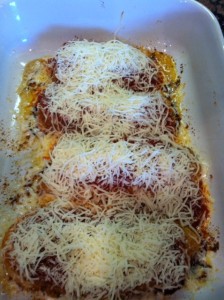 Bake for an additional 8 minutes or until the cheese is melted. Let sit for 5 minutes. Serve over spaghetti. Enjoy the taste without the guilt!!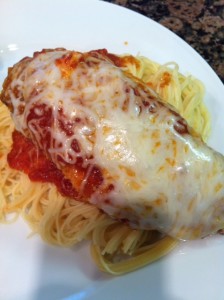 Important Tips:
If we have said it once (and made a video about) we will say it again…pound your chicken!!
Meal Ideas:
Serve over spaghetti or angel hair pasta and with a green vegetable for a complete meal!
Got Leftovers?:
Well, chicken parmigiana sandwich is the obvious!!
Check back for the traditional version if you don't care about a few extra calories. That's the way I like it!! – Melissa