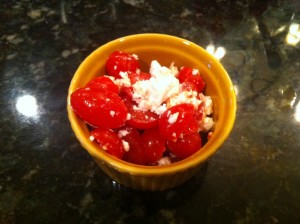 This is a fast, fresh and easy summer salad recipe that you can actually eat year round. People love it and it goes with just about anything, especially BBQ!
Ingredients:
1 pint grape tomatoes, sliced in half
2T red wine vinegar
2T olive oil
1/4 cup finely diced red onions
1/4 – 1/2 cup quality feta cheese, crumbled
Salt and fresh cracked black pepper
Slice the tomatoes in half and place in a bowl. Toss with salt and pepper. Add the vinegar and oil and the red onions and let marinate together for a little while (5 min – 2 hours). Right before ready to serve, crumble the feta into the salad, lightly toss and serve.
Important Tip:
Don't mix the feta into the salad until ready to serve. It will make all the juices of the salad turn white and won't be that appetizing.
Do your best to find quality feta (usually from Greece), packed in either oil or water and sold in a block. The pre-crumbled stuff that is in plastic containers with no liquid is really not feta. I have no idea what it is other than a salty cheese curd of some sort. Splurge for the good stuff once if you've never had it and you'll see what I'm talking about!!
Preparing Tomato and Feta Salad for a crowd?
Buy the large clam shell of tomatoes at Costco and a chunk of their feta. It will serve as a side for probably about 15 people.