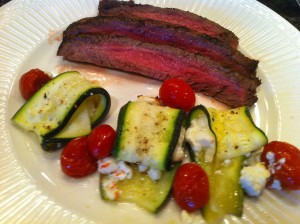 These are a bit unique and a great way to bring flavor to a vegetable that has minimal flavor on its own.
Level of Difficulty: Easy
Time Required: Prep Time – 20 min; Cook Time – 12 min
Ingredients:
2 medium sized zucchini
1/3 lb block of feta cheese
Pint of grape tomatoes
Salt and Pepper
Extra Virgin Olive Oil
Special Equipment and Other Items Needed:
Mandolin or a really good knife and knife skills to slice the zucchini ultra thin
Toothpicks
Preparing Zucchini with Feta Cheese and Tomatoes:
Slice the zucchini lengthwise and ultra thin. Sprinkle with salt and pepper and a drizzle of olive oil.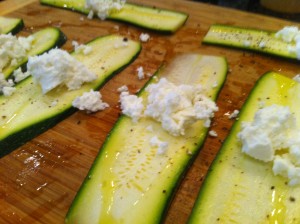 One at a time, place some feta cheese in the middle. Roll up and secure with a toothpick. Repeat for all zucchini strips. Sprinkle with salt, pepper and a bit more olive oil. Add tomatoes.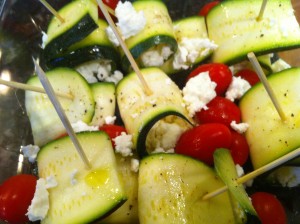 Bake in oven at 450 degrees for about 10-12 minutes.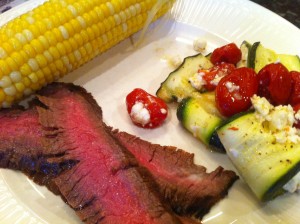 Variations:
Try different cheeses, top with marinara sauce instead of the tomatoes
Meal Ideas:
Shown here with marinated flank steak and corn on the cob