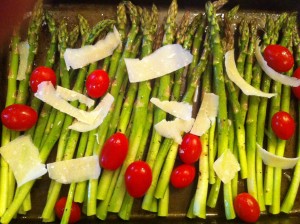 Roasted Asparagus and Tomatoes with Shaved Parmesan is quick, easy, beautiful and delicious. I like to serve this around Christmas (green and red) but it is a quick and easy side. It also highlights all the great flavors of asparagus.
Ingredients:
1 bunch of asparagus, prepared
1 pint of grape tomatoes
Olive oil
Salt and Pepper
Shaved Parmigiano Reggiano (use a vegetable peeler to shave it)
Preparing Roasted Asparagus and Tomatoes with Shaved Parmesan:
Prepare the asparagus like indicated in our previous post. Top with whole grape tomatoes. Drizzle with olive oil, salt and fresh cracked pepper. Toss to coat. Add shaved Parmigiano Reggiano using a peeler. Roast in a 450 degree oven for about 5-7 minutes. Serve immediately.
That's it.
Need something to bring to a potluck? Hosts always need green vegetables and people don't like to bring them. This is a great one to bring IF you check with the host to ensure you can have the oven for 10 minutes prior to dinner. Otherwise, bring something else.