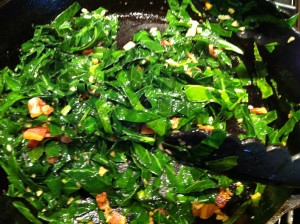 I'm a true Southerner through and through. As much as I like fresh, steamed or roasted vegetables, I also love some of my vegetables braised for many hours. One of those is collard greens!
I eat collards a handful of times a year and I ALWAYS eat them on New Year's Day, ALWAYS!! I cook them in stock with smoked turkey wings, vinegar, sugar and red pepper flakes. They are delicious! But as I was 'harvesting' our winter urban garden and was bringing in the collard greens, I thought there had to be another way. Why would they have to braised for hours? Why couldn't I treat them like I would a more delicate green like spinach?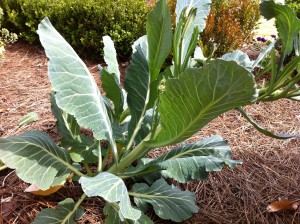 So with that, I decided to do a light sauté on the chopped greens with olive oil, bacon and TONS OF GARLIC!!!! Mmmmmmm!
Level of Difficulty: Easy
Time Required: Prep Time – 10min; Cook Time – 10min
Ingredients:
1 bunch of collard greens
4 T extra virgin olive oil
3 strips of bacon, chopped
5 cloves of garlic, minced
salt and pepper
How to remove stems from collard greens:
The first thing you need to do if you buy whole collard greens is to remove the tough center vein. This is easily done by lightly folding the leaf in half and cutting out that inner vein. (Feeling advanced in your knife skills, you can stack the leaves perfectly on top of each other and roll up and cut as a chiffonade, and when you get to the center of the stack, just cut out the center stems of the entire stack)
How to prepare sautéed collard greens with garlic
Once the center vein is removed on all the large leaves, stack the leaves on top of each other and roll up into what is called a chiffonade. Then chop into strips about 1/4 inch thick.
Once you make it through the chiffonade, cut the entire chiffonade down the middle for more bite sized pieces.
Put the olive oil, minced garlic and chopped bacon into a skillet, preferably cast iron, and sauté over medium heat until the bacon is cooked through. Add the chopped collard greens and sauté, stirring frequently until the collards are bright green and delicious. Add salt and pepper to taste remembering there is a lot of salt in bacon so be careful not to over salt. That's it! Great side dish to most anything.
Meal Ideas:
Shown here with California BBQ'd Tri-tip of beef, grilled green onions and hasselback potato.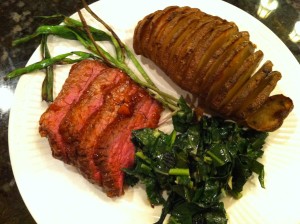 Got Leftovers?:
I did not do this but I bet it would be great as some greens in a quiche with more bacon and some cheese like Gruyere.
Did somebody say garlic??? -Denise