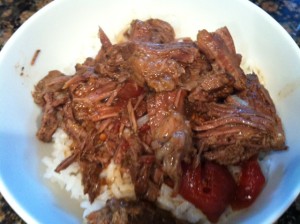 Shredded beef over rice is great for a crowd. It's easy, delicious, and not too expensive! I got this recipe from Bon Apetite many years ago! Have I mentioned what a fabulous magazine that is, especially for beginners? Anyway, shredded beef goes a long way and freezes well. You can use it later in fajitas, tacos, sandwiches…just about anything!  Rice is cheap and is great for sopping up delicious juices from the shredded beef. The amount of "hands on" time is minimal, which is great for busy moms and working women. You really can prepare the meat in just 5 minutes, brown it for 10 and be done! Most of the work is done by your dutch oven on low heat! If you have a good dutch oven there is no telling what you can accomplish in the kitchen!
Level of Difficulty: Easy
Time Required: Prep Time – 5 min; Cook Time – 4 hours 10 minutes
Ingredients:
1 4 lb. boneless chuck roast
3 tsp. fajita seasoning
2 T. vegetable oil
2 (14 1/2- oz.) cans Mexican-style stewed tomatoes
2 c. water
4 cups of cooked rice
Special Equipment and Other Items Needed:
Preparing the Shredded Beef and Rice:
Rub both sides of the roast evenly with fajita seasoning. Cook roast in hot oil in a large Dutch oven over medium-high heat for 5 minutes or until browned on all sides.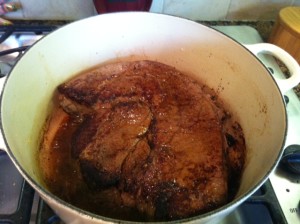 Combine stewed tomatoes and 2 cups of water; pour over roast. Cover, reduce heat to low and cook for 4 hours until the roast is tender.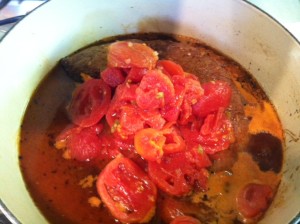 Make rice according to directions.
Remove roast and shred using 2 forks. Skim fat from tomato liquid in Dutch oven and discard. Stir shredded beef into tomato liquid. Serve beef mixture over rice.