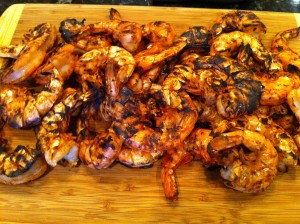 Alright, I admit it. I'm a bit of a Bobby Flay fan. But, can you blame me? What that man can't do with a grill! Mmmmm!! Makes my mouth water just thinking about it. Ha, bet you thought I was going somewhere else with that one (although I do like his cute little dimples).
I was looking for a recipe for a grilled shrimp appetizer a couple of summer's back when in Seaside with some friends. I popped into the local seafood store on 30A and picked up some freshly caught (that day) shrimp. The house we rented had a grill so I figured Bobby would know what to do. I found a cool recipe of his that called for about 3-4 different types of peppers. Well, although Seaside has great seafood, the varieties of peppers available at the local grocery store, not so great. So much for the recipe I had in hand. Now I needed to improvise. I bought some garlic and a can of chipotle peppers in adobo sauce. This will have to do.
This spicy grilled shrimp recipe can be an appetizer or a main course.
Level of Difficulty: Moderate
Time Required: Prep Time – 20min; Marinate 10 min- 1hr; Cook Time – 4-5 min
Ingredients:
Spicy Shrimp
Some nice big shrimp – I prefer Extra Jumbo for this recipe which generally means about 16- 20 shrimp per pound. For an appetizer, plan on 3-4 shrimp per person.
3 cloves of garlic, minced
1 can chipotle peppers in adobo sauce
Dipping Sauce
1 1/2 cups plain Greek yogurt
1/4 cup ketchup
2 T worcestershire
3 shallots, minced
1 garlic clove, minced
Zest and juice of 2 limes
1/2 cup of cilantro, chopped
4-5 T capers
salt and pepper
Special Equipment and Other Items Needed:
Grill
Zester
Preparation:
For grilled shrimp, I prefer to keep their shells on. To me this is like bone in chicken, it helps keep the moisture in. I do go ahead and devein them though, and for guests, I will peel them prior to serving. If it's just family, then they are on their own 🙂
How to devein shrimp with shell on
Using a paring knife, cut a slit into the outside edge of the shrimp.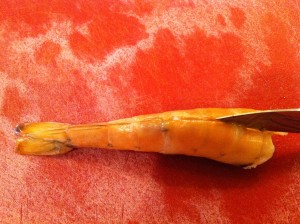 I like to do this to all of my shrimp and then come back to the next step where you wash out the contents of where you made your cut. Sometimes there is nothing. Usually there is a dark brown 'string of stuff'. Sometimes it is a whole bunch of orange goo. Whatever it is, run some water through there and take it out!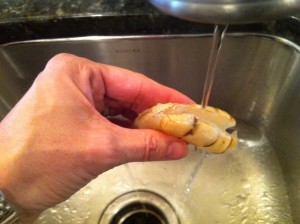 Once all the shrimp are clean, prepare grill for direct heat and high temperature. Place the shrimp in a non-reactive bowl (glass or melamine will do). Add the minced garlic. Open the peppers, add the contents to the bowl. Break up the peppers with your fingers as you go. Toss to coat and let the shrimp sit there while the grill gets hot.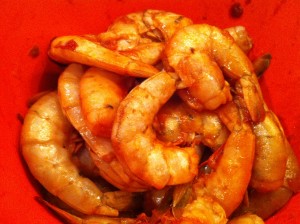 Meanwhile, make the dipping sauce (if using this as an appetizer). The point of the dipping sauce is to provide a nice, cool contrast to the spicy hot shrimp. Mix all the ingredients together and taste. Add more of whatever you think you would like. Salt may seem odd to add to yogurt but it is necessary. If you are one of those people that hates cilantro, don't eliminate the green ingredient. Swap it for flat leaf parsley. Again, a necessary component of the sauce.
Place the shrimp on the barbie – I mean grill – and turn after about 2 minutes. If your grill is hot, they will take less than 5 minutes to grill. If your grill has hot and cold spots, then move them around as needed and remove in the order they are done. They are done when they make a letter C. You really don't want to overcook. Not sure how long it will take on your grill? Start with one shrimp and test it until it is done to your liking. However, if you overcook, the shell will not come off easily later.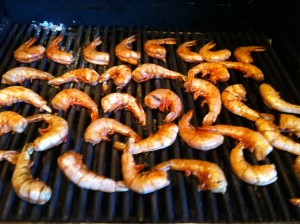 Variations:
Too spicy? Just use the adobo sauce and not any of the peppers. The more peppers you break up and add to the marinade, the spicier it will be.
You lost me at "dark string of stuff" and "orange goo". I'll have to find a way to make this equally delicious with already cleaned and deveined shrimp so I won't have to touch them! – Denise