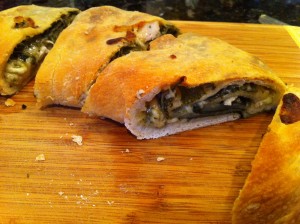 Stromboli's are awesome. Fun to make. Easy to eat. Perfect to customize. Versatile enough as a fun appetizer or as a meal. Kids love them and adults do too! My mom taught me to make these many years ago. Next time you want to make a pizza, try making a Stromboli instead.
Level of Difficulty: Moderate
Time Required: Prep Time – 30min; Cook Time – 30 min
Ingredients:
1 package of pizza dough per Stromboli (yes, buy the pre-made dough from Publix, it's the best)
Pesto, Spinach and Chicken Stromboli
4 oz of freshly made pesto (if you don't have the time to make it, the pesto sauces in the refrigerated section of the grocery store are generally pretty good)
2 handfuls* of shredded mozzarella cheese
Chopped cooked chicken (yet another recipe for leftover poached chicken or any leftover chicken in the fridge)
2 handfuls* of fresh spinach
* handfuls is a technical measurement 😉
Marinara, Tomato and Pepperoni Stromboli
4 oz marinara or pizza sauce
2 handfuls of shredded mozzarella cheese
Pepperoni
Chopped fresh tomatoes
Special Equipment and Other Items Needed:
Rolling pin
Parchment Paper
How to Make a Stromboli:
First, you need some great helpers!
Spread a few tablespoons of flour onto your counter top and place the dough on top. Gently kneed the dough and start flattening and spreading it out. Toss it if you know how. It will take a bit of time, but it will eventually 'release' and really allow you to flatten it out. You'll want to make the dough really thin.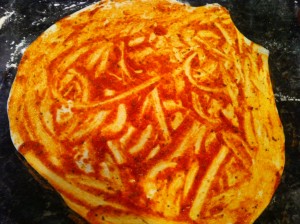 Spread the marinara or pesto very thinly on the dough using the back of a spoon to help prevent tears. Spread it all the way to the edge.
Top lightly with cheese and toppings. No need to overstuff.
Once you have your filling finished, gently roll up one of the edges.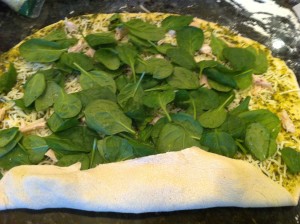 Take your time and continue to roll all the way up. It does not have to be super tight.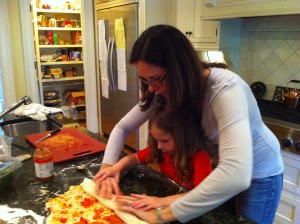 Once rolled up, you'll need to wrap up the ends so everything doesn't spill out. You'll also want to gently pinch the last edge of the dough to the rest of the rolled Stromboli too.
After it is rolled up, transfer to a baking sheet. I like to line mine with parchment paper as it makes it a lot easier for clean up and ensures nothing sticks. With a sharp knife, cut small slits in the top of the Stromboli every 2-3 inches. Lightly brush the top with olive oil and put into a pre-heated 350 degree oven for about 30 minutes or until done.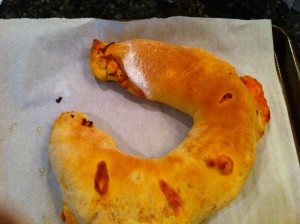 Let rest for a minute or two and then slice and serve. If for an appetizer, slice thinly and serve on a platter with some extra marinara. If for a meal, slice as large of a piece as you want!
Important Tips:
Don't forget to cut small slits in the top unless you want one heck of a messy oven
Variations:
You can put anything in this, just like pizza. Just remember to (1) keep the sauce light (2) don't overstuff
…and this is perfect example of the differences between Melissa and I. I give you "Make your own Pizza" and she gives you "Stromboli"!!! – Denise