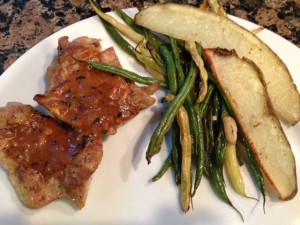 I have only been cooking with chicken thighs for about a year. Don't ask me why. I guess I never thought much outside the "boneless skinless chicken breast" box. These roasted chicken thighs with mustard-thyme sauce are outstanding. I found this recipe in the October 2012 issue of Cooking Light magazine. They are easy, delicious AND healthy! What more can you ask for?
Level of Difficulty: Easy-Moderate
Time Required: Prep Time – 10 min; Cook Time – 25 min.
Ingredients:
1 T. olive oil
8 bone-in chicken thighs, skinned
1/2 tsp. salt, divided
1/2 tsp. freshly ground pepper, divided
1 T. butter
1/2 c. chopped onion
2 tsp. chopped fresh thyme
1 c. chicken stock, divided
4 tsp. flour
1 tsp. Dijon mustard
Special Equipment and Other Items Needed:
11×7 inch glass or ceramic baking dish
Preparing Roasted Chicken Thighs with Mustard-Thyme Sauce:
1. Preheat oven to 425 Degrees.
2. Heat a large nonstick skillet over medium-high heat. Add oil to pan; swirl to coat. Sprinkle chicken with 1/4 tsp. salt and 1/4 tsp. pepper. Add chicken to pan; cook 4 minutes on each side until lightly browned.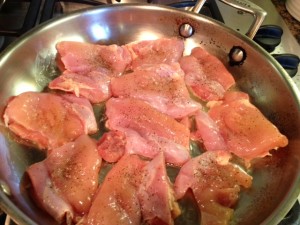 Remove chicken from pan and place in an 11 x 7 inch glass or ceramic baking dish. Bake at 425 degrees for 16 minutes or until internal temperature reaches 165 Degrees. Remove chicken from dish; reserve drippings.
3. Return skillet to medium-high heat. Add butter; swirl to coat. Add onion and thyme; sauté 5 minutes or until tender. Combine 3 T. stock and flour in a small bowl, stirring with whisk until smooth. Add flour mixture, remaining stock, and reserved drippings from pan to loosen browned bits. Bring to a boil and cook for 2 minutes until slightly thickened.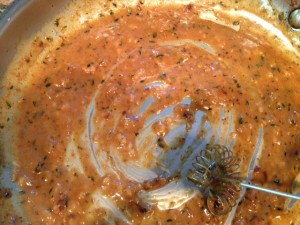 Remove from heat and add mustard, remaining salt and pepper. Stir with a whisk. Serve sauce over chicken.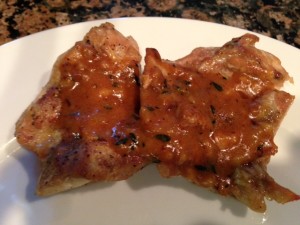 Variations:
I'll be honest. When I made this, I used boneless skinless chicken thighs. It was still absolutely delicious and a little healthier. The only difference was that since there were hardly any drippings from the baking dish to use, I just added bit more stock.
Meal Ideas:
Served here with roasted green and yellow beans and potatoes.