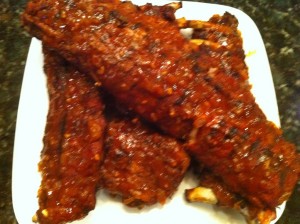 You may recall that Denise posted her Easy Rib Recipe a while back and we had a little 'discussion' on the best ribs. Well, I decided to go ahead and post mine so you can decide which one you like. They have similarities in that they are both baby back ribs, both start with a dry rub and sauce; however, that is about the end of the similarities. Try them both!! I think these are the best ribs not cooked on a smoker like a Big Green Egg. We'll provide one of those recipes at another time.
Level of Difficulty: Moderate
Time Required: Prep Time – rub – 5 min, ribs – 5 min, sauce – 20min; Marinate time 2hr-overnight; Cook Time – 3 hours
Ingredients:
4 racks of baby back ribs (Denise says count on 4-6 ribs per person – that's crazy talk – count on 6-8 of these bad boys!)
Make your own dry rub: I change this up every time and never measure it. But, here are the basic ingredients. Change quantities and spices to vary yours to be sweeter or spicier.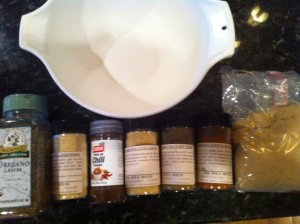 Oregano (~2T)
Garlic Powder (~4T)
Chili Powder (~5T)
Onion Powder (~2T)
Cumin Powder (~1 1/2 T)
Cayenne (~1 1/2 T)
Brown Sugar (~ 1/2 cup)
Coarse Kosher Salt (~6T)
Black Pepper (~2T)
These are the kinds of quantities I used. Starting at 12:00, you have Chili powder, Kosher Salt, Cayenne, Onion powder, Oregano, Garlic powder and in the middle you have black pepper and cumin.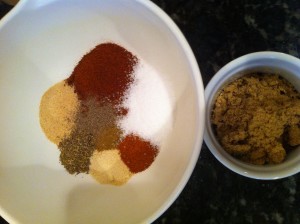 Make your own sauce – worth it and it's easy. Here is my base recipe to help get you started.
Special Equipment and Other Items Needed:
Foil
Gas Grill
How to make BBQ ribs on a gas grill:
Make your dry rub the way you like it. The rub above will be a bit on the sassy side. Tone it down by reducing the 3 pepper powders. Mix it all together.
Take your ribs, place on top of some aluminum foil and rub the dry rub onto both sides and really rub it into the meat, don't just sprinkle it on top. Again, it's your choice on how coated you want them. I coated these pretty heavily and man, did they have a kick!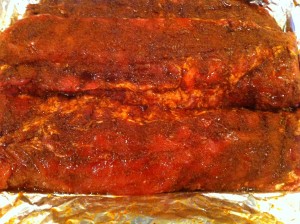 Wrap them up, put back in the fridge for a couple of hours or overnight to let those flavors really sink in!
When ready to cook, take the ribs out of the fridge and let rest. Preheat your gas grill to medium-high heat. When hot, place the ribs over the heat for about 2-3 minutes per side to get some good grill marks and char on the exterior, turn off half of the grill and place ribs over indirect heat for another 20 minutes (10 minutes per side).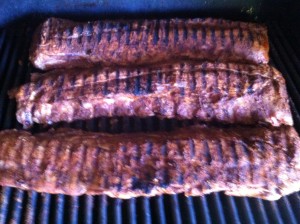 Remove the ribs from the grill, place on top of some aluminum foil, fold up the edges partially, pour a liquid into the foil (beer, chicken broth or apple juice are my favorites) and wrap them up tightly in the foil.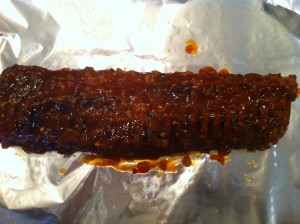 Return the wrapped ribs to the grill over indirect heat turned down to medium for another 2- 2 1/2 hours. The ribs are done when you can pull the meat away from the bone with a tug but you went too far if the ribs just fall off the bone.  You'll also notice that the exposed bones stick out a bit from the rack.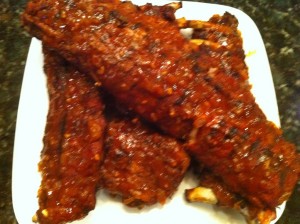 Remove from foil but keep on the grill, sauce them up on both sides for a couple of minutes and serve!
Important Tips:
Great dry rub + great sauce + low and slow = Awesome ribs!