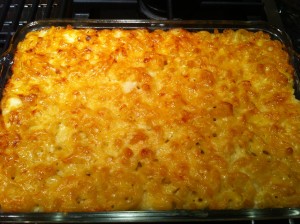 Macaroni and Cheese! So much to say about this amazing comfort food.  I could eat this everyday. There are so many ways to prepare macaroni and cheese and I'm not referring to opening a packet of noodles, sticking it in the microwave and adding another packet of dried orange stuff on top (although, I'm embarrassed to say, that my 4 year old still gets that once in a while).
Anyway, I digress. I like my macaroni creamy in the middle but with a crunchy layer on top. The contrasting textures make for a heavenly dish!
Level of Difficulty: Moderate Time Required: Prep Time – 30min; Cook Time – 45 mins -1 hour
Ingredients:
1 lb box of elbow macaroni
3T butter
3T flour
4 cups milk
4 cups freshly grated extra-sharp cheddar cheese (I think Cabot is the best!)
salt
white pepper
Special Equipment and Other Items Needed:
Food Processor to grate the cheese. You really need to use freshly grated cheddar to taste right, not pre-grated!
Cooking spray
4qt baking dish (yes, that's big, but I like to have a lot of mac'n'cheese around for leftovers or to freeze for another time)
Preparation:
Preheat oven to 350 degrees.
Boil water for pasta, add a handful of salt and cook until just slightly under-cooked (al dente). You'll be adding a lot of liquid and finishing cooking in the oven, so the pasta will finish cooking there.
While waiting for the pasta water to come to a boil, add 3 T butter to a 6-8 cup sauce pan. Melt the butter over medium high heat. When melted, add the 3 T flour and whisk to incorporate and until all lumps are gone. Cook for at least 2-3 minutes then add 4 cups of milk. Now, I use skim milk because I hate buying 2 types of milk and it really works well and thus reduces a lot of fat in an already fatty dish. However, if you want yours to be even richer, use whole milk or a mixture of whole milk and half-and-half. It is sinfully good that way!
Watch the milk mixture closely. You don't want it to boil or stick to the bottom. You'll need to stir it often but after about 20 minutes, it should begin to thicken. Once it gets the consistency of a soup, add 1/2 the freshly grated extra-sharp cheddar cheese, 1T salt and however much white pepper you want. You use white pepper strictly to avoid having black flecks throughout your dish.
Stir until the cheese melts and the sauce is fairly thick.
When the pasta is done, drain and add to a 4 qt baking dish that has been sprayed with a cooking spray for easy clean up later. Pour the milk and cheese mixture over the top and gently incorporate.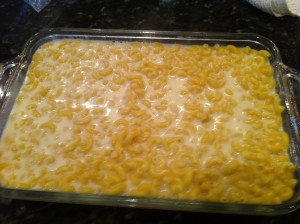 Add the other 1/2 of the cheese on top.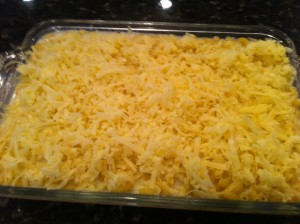 Bake at 350 degrees for 45 minutes to an hour. When the top is at your desired level of crunchiness, loosely cover the macaroni with a piece of aluminum foil. I like mine really crispy so I don't usually cover it. When it is good and bubbly all around, it is done. Let rest for 5 minutes or so before serving which will give you just enough time to steam a veggie or toss a salad.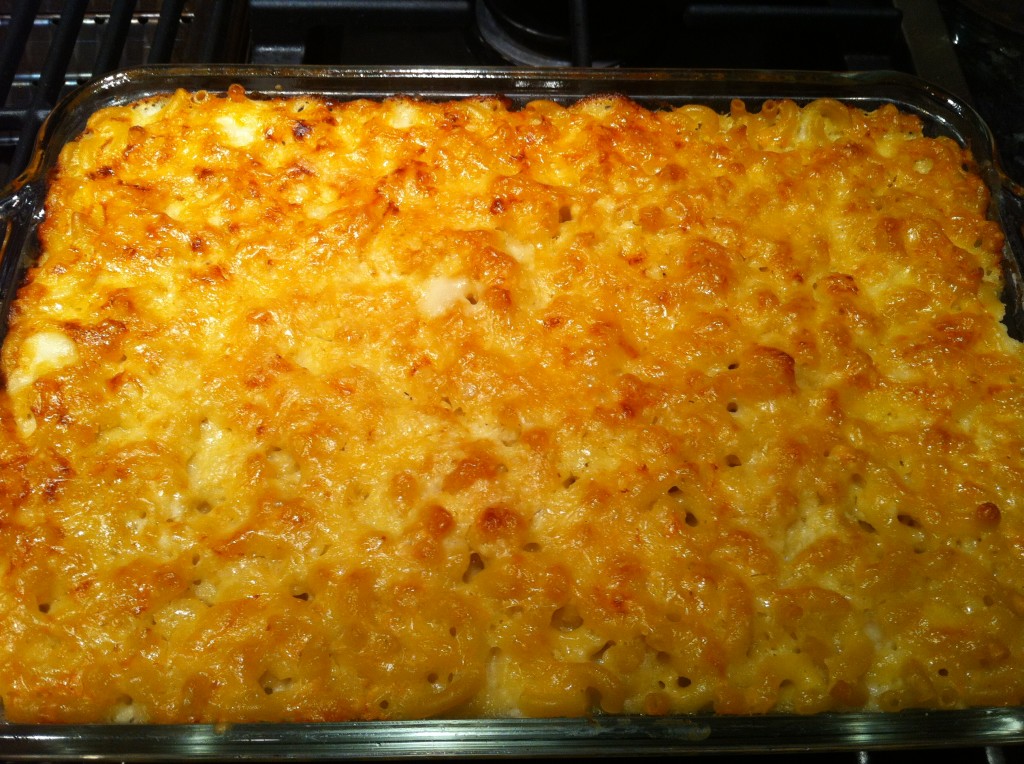 Important Tips:
Read our tips for making the perfect pasta.
Got Leftovers?:
When reheating, add a little bit of milk to bring back moisture!