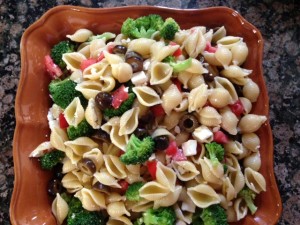 Pasta Salad with Champagne Vinaigrette  is 1) easy 2) feeds a lot of people 3) kid friendly 4) can be made ahead and  5) cheap. It's that time of year where people go to barbecues, concerts in the park, pool parties and just regular pot lucks. You should keep this on your list of things that you can whip up easily and quickly if you find yourself invited somewhere and you need to bring a dish. Since there is no mayonnaise, you don't have to worry as much about it going bad quickly if it sits outside.
Level of Difficulty: Easy
Time Required: Prep Time – 20 min; Chill Time – Minimum 3 hours
Ingredients:
1 box of your other favorite pasta
10 oz. feta cheese
1 can black olives, slices
1 package broccoli florets, cut into bit sized pieces
2-3 roma tomatoes, diced
1 bottle of Girards Champagne Vinaigette Dressing (or if you're Melissa, make your own)
Preparing Pasta Salad with Champagne Vinaigrette:
Prepare pasta as directed. Drain and let cool. Meanwhile, steam the broccoli about 3-5 minutes so that it is still crisp. Let cool. Place the pasta in a mixing bowl and add enough dressing to coat the pasta. Mix well. Add the broccoli, tomatoes and olives. Add salt and pepper to taste. Mix well. Cover and place in the refrigerator for at least 3 hours. When you are ready to serve, take the salad out of the refrigerator, add some more dressing and mix again. Add the feta cheese, mix, and serve.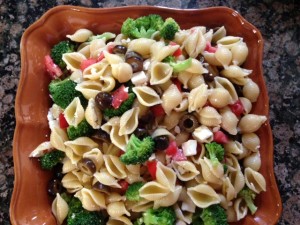 Important Tips:
The key is to leave enough time for the flavors to mix well.
Variations:
You can really add whatever vegetables you like. I chose broccoli, olives, feta cheese, and tomatoes because most people like them and they add great color. I have also added some grilled chicken for some protein!
Got Leftovers?:
This saves well in the refrigerator for several days. You just may need to add more dressing to keep it from drying out.