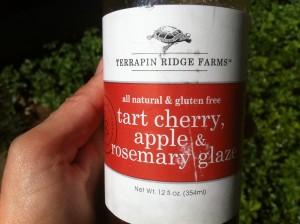 I found this Tart Cherry, Apple & Rosemary Glaze at Fresh Market. It is from Terrapin Ridge Farms and is all natural and gluten free. Perfect for a quick meal and good enough to need no additional seasoning.
I roasted this pork tenderloin because I was on vacation and did not have access to a grill. Grilling would work equally as well.
Ingredients:
2 pork tenderloins (1 package)
1 bottle of Tart Cherry, Apple and Rosemary Glaze
Preparing the Pork Tenderloin with Tart Cherry, Apple & Rosemary Glaze
Preheat oven to 450 degrees. Place pork in baking dish and sprinkle with a little salt and pepper. Roast for 10 minutes then glaze with the sauce. Glaze every 5 minutes until pork is done. Should take about 25 minutes total cook time. Let rest for a few minutes, then slice and serve.
I served this with rice (to soak up some of the sauce) and some snow peas which I cooked with a bit of the same glaze. Delicious! Easy! No additional spices needed so great for vacation!