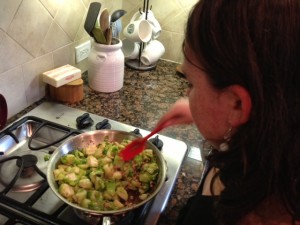 My 11 year old asked if she could make Brussels sprouts for dinner one night. I was a bit shocked. Not because she wanted to cook, but because she wanted to make Brussels sprouts. Since I encourage my kids to cook (and eat vegetables), I agreed. She told me she wanted to do everything herself. I will be honest. They were really good! I loved them, so did she! I think when it comes it trying new foods, sometimes kids are more willing to take the plunge if they do all the prep and cooking themselves!
Level of Difficulty: Easy
Time Required: Prep Time – 20min; Cook Time – 30 min.
Ingredients:
3 T. Olive oil
1 T. Salted Butter
8 garlic cloves, crushed
Brussels Sprouts
Diced Pancetta
Special Equipment and Other Items Needed:
Saute Pan
Preparing Brussels Sprouts for Kids:
Put the olive oil and butter in sauté pan over medium heat. When the butter is melted, add the Brussels sprouts. Cook for about 10 minutes, stirring frequently. Add pancetta and garlic. Cook until pancetta is done and sprouts are to your desired doneness, most likely 15 minutes. Add salt and pepper to taste.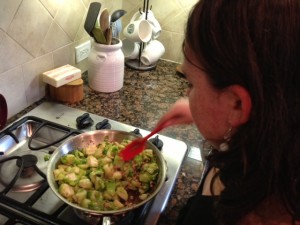 Important Tips:
Whenever kids are in the kitchen, always keep an eye on them.
Wow! A mini-McNack in the making!! Can't wait to try them. -Melissa