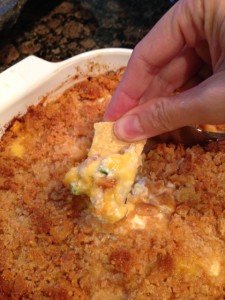 This Jalapeño Popper Dip recipe was posted on a friend's wall on Facebook. The picture alone sold me on it. She got it from Gabby's Goodies Via .dotcomsformoms. I thought it would be a perfect appetizer for a large gathering, so I made it for Baconfest for the first time. It was as good as a I had hoped it would be. It wasn't too spicy so it was pleasing for the entire crowd. This dish would be great to bring for a potluck as well as serving it for a casual party at home.
Level of Difficulty: Easy
Time Required: Prep Time – 15 min; Cook Time – 30 min.
Ingredients:
6-8 slices crispy cooked and diced bacon
2 8 oz. packages of cream cheese, softened
1 cup mayonnaise
4-6 jalapeños, chopped and deseeded
1 cup shredded cheddar cheese
1/2 cup shredded mozzarella
1/4 c. diced green onion
Topping:
1 c. crushed crackers (such as Ritz)
1/2 c. parmesan cheese
1/2 stick butter, melted
Preparing Jalapeño Popper Dip:
Preheat oven to 350 Degrees.
Combine all ingredients into medium bowl(except topping ingredients) and stir well. Place ingredients in oven safe bowl. The smaller the bowl, the deeper the dip will be and the longer it will take to cook.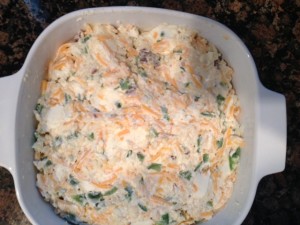 Combine the topping ingredients and sprinkle all over the top of the dip.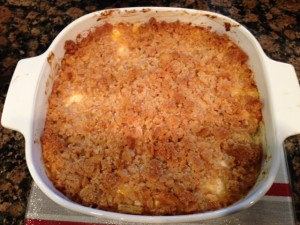 Bake for 20-30 minutes or until bubbly. Serve with Tortilla or Stacy Chips.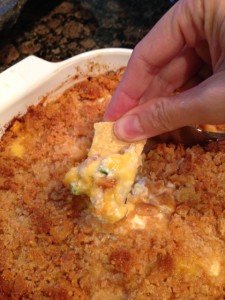 This sounds so good! I'm going to make for my next casual get together and serve it with Fritos!  Old school but yummy. – Melissa