I love salsa. The salsa you buy in a jar is ok, but not fabulous. My sister gave me this recipe that she found from www.mountainmamacooks.com about a year ago. The first time I saw it, I was a little skeptical due to some of the ingredients (I never expected honey to be in salsa). However, after I tried it, I was sold. Everyone else was as well. It really is the best homemade salsa.
Level of Difficulty: Easy
Time Required: Prep Time – 15min
Ingredients:
1 14 oz. can diced tomatoes
1 10 oz. can original Rotel
1/2 small onion, roughly chopped
1 garlic clove, peeled and smashed
1 jalapeño (seeded or not depends on how spicy you like it)
1 tsp. honey
1/2 tsp. salt
1/4 tsp. ground cumin
small to medium size handful of washed cilantro
juice of 1 lime
Special Equipment and Other Items Needed:
Blender (or food processor)
Preparing The Best Salsa:
Put all ingredients in a blender and pulse to combine for 30 seconds or so until all of the ingredients are finely chopped and the salsa is at the desired consistency. Taste for seasoning and adjust if necessary. Serve with chips or over tacos!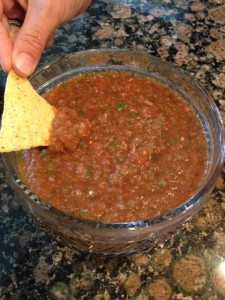 Got Leftovers?:
The salsa will stay good for up to two weeks in the refrigerator.