My aunt made Lemonade Pie for my kids' "back to school party" many years ago. Since then, I typically make this pie in the summer since it's a cool and refreshing dessert. Actually, it's so easy, my kids make it now!
Level of Difficulty: Easy
Time Required: Prep Time – 15 min; Freeze time – 4 hour minimum
Ingredients:
1/2 c. Country Time Lemonade Flavor Drink Mix
1/2 c. cold water
2 c. vanilla ice cream, softened
1 8 oz. tub Cool Whip whipped topping, thawed
1 graham cracker crust
Special Equipment and Other Items Needed:
Preparing Lemonade Pie:
Place drink mix in large bowl. Add water and stir until mix is dissolved. Add ice cream and beat with electric mixer on low speed until well blended. Carefully stir in whipped topping. Spoon into crust, cover and freeze at least 4 hours.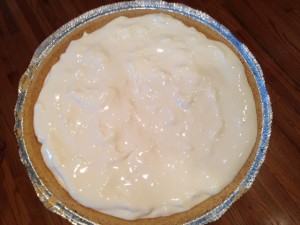 Remove pie from freezer about 10 – minutes before serving to make it easier to cut.

Variations:
Try this with strawberry lemonade for a slightly fruitier flavor!