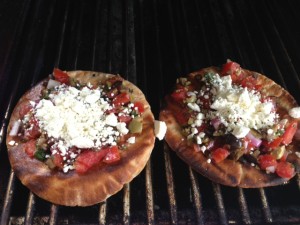 I made Grilled Pita with Tomato, Olives and Feta as an appetizer for the 4th of July. I had never grilled pita before and thought I'd try it for the first time with some of my favorites foods and flavors all mixed together. Oh my goodness! It was one of the best things I had ever tasted and took virtually no time to prepare
Level of Difficulty: Easy
Time Required: Prep Time – 10 min; Cook Time – 5 minutes
Ingredients for 12 people:
6 roma tomatoes, chopped
3/4 c. of mixed olives, finely chopped
1/4 c. red onion
3 T. olive oil
4 T. fresh mint, chopped
6 pitas (I used whole wheat)
1 c. crumbled feta cheese
Preparing Grilled Pita with Tomato, Olives and Feta:
Preheat Grill to medium-high heat. Put first 5 ingredients in a bowl and mix well.
Brush one side of each pita with a bit of olive oil. Place pitas oiled side down on the grill for about 2 minutes, or until lightly browned. Turn pitas over and top with the tomato mixture. Sprinkle with cheese. Cook for an additional 2 minutes with the grill closed, until the mixture is warm.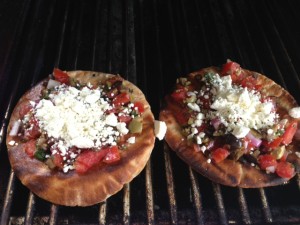 Variations:
You could really top these pitas with just about any of your favorite ingredients. You can even make pizzas out of them! I made them as appetizer and cut them into wedges to serve, but there is no reason why you can't serve them as an entire meal!