This was a staple growing up in my house as a kid. It is super easy but don't let easy fool you into thinking it is not tasty.  It is also not very expensive to feed a large number of people because pork loin is much less expensive than the tenderloin and healthier than red meat. I love using this or a similar approach to cooking both pork and lamb.
Level of difficulty: Easy Prep Time:5 minutes, cook time 1 hour, rest time 15-20 min
Ingredients:
Pork Loin (minimum of 2 lbs and 2 lbs will serve 4-6 people)
Yellow Mustard (enough to coat)
Kosher Salt (enough to top)
Fresh Cracked Black Pepper (enough to top)
How to prepare roasted pork loin:
Rub the pork loin with the salt and pepper. Then add the yellow mustard and make sure covered all over, top, sides and bottom.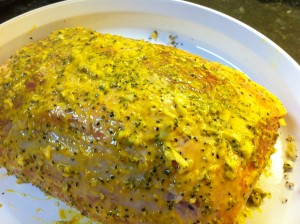 Bake at 350 degrees for about 1 hour for every 2 pounds until 145 degree temperature is reached. Let rest for 15-20 minutes (enough time to steam your veggies) and then slice to desired thickness.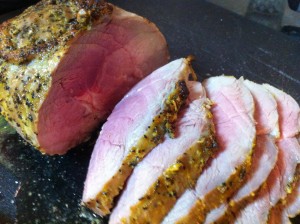 Served here with asparagus with Dijon and red potato and bacon hash.