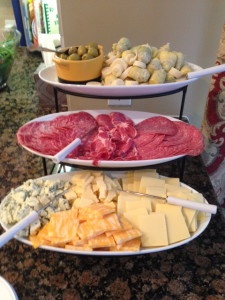 As many of you know, I have been busy planning a couple's baby shower I was hosting at my house for some dear friends. Well, the baby shower was last night. Most everything turned out as I had planned, but of course, there were a few small things I didn't anticipate. Since I have thrown a few parties in my day, I didn't stress or freak out. As I have said in the past, expect the unexpected and all will be fine!
Here's a recap:
The Guests
Everyone had responded in one way or another and I was planning on 31 people coming. We ended up only having 26, and some had to leave early due to other plans or babysitting issues. It was a couples only shower so kids weren't invited. Babysitting issues were inevitable.
The Food
As I stated in my previous posts about getting ready for the shower, the menu was as follows:
Pork Sliders (Made with Melissa's How to Impress Your Man Pork Tenderloin) – I served them with a side of Dijon mustard, yellow mustard and horseradish sauce.
Shrimp Grits and Toast Points
Green Bean and Mushroom Salad
Meat and Cheese Tray with Olives, and Marinated Artichoke Hearts & Hearts of Palm
Cupcakes from a Local Bakery – I wanted to serve something that had a "baby shower" theme for dessert. Since I am not a huge dessert maker, I thought I'd make it easy on myself and order cake squares with baby booties on top from my local bakery. Due to time constraints, I had my friend Kim pick them up for me and bring them over. It was perfect timing…almost! She was walking in the door right when the bottom fell out of the sky! True friend…she came in, dried off a bit, and then went to work arranging the cakes on my serving piece!
I was pretty impressed with my meat and cheese tray, if I do say so myself! I posted this picture last night on Facebook, so some of you may have already seen it! My tiered serving piece was broken so I borrowed this one from my friend a few hours before the party. Such a life saver! Thanks, Dina!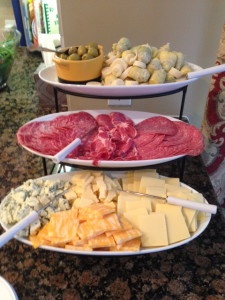 I will be honest, I think the Baked Potato Bar was the biggest hit. People really liked the idea and concept. I made the potatoes before the guests arrived and kept them warm in a pot by the stove. As people were getting ready to eat, I would scoop the potatoes in a plastic cup and set them next to the toppings. Everyone added what they wanted and went on their way! This one looked especially yummy!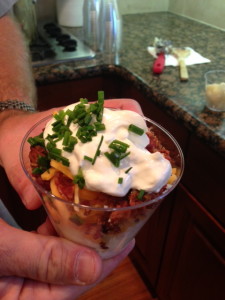 The Drinks:
We set up a table outside on our deck for wine and a bucket of soda. We also had a bucket of ice water and a cooler full of beer. It was definitely a "help yourself" atmosphere and made it easy on the host!
The Decorations:
I didn't want to go with anything real "cheesy" in regards to decorations. I decided on pastel tablecloths for my two tables inside and beverage table outside. Again, I had a friend come through for me and grab some balloons. Thank you, Lynne! Since some people had never been to my house, I thought it was a good idea to put the Baby Shower mylar balloon along with some others on the mailbox so guests could easily find the house. I had two more sets of balloons throughout the house. Dina made some beautiful floral arrangements from her garden for the dining room table. That was it!
The Games:
The guests of honor wanted a few games, but nothing like tasting baby food, or anything regarding a measuring tape around the belly. Since those were my only restrictions, I had fun coming up with games I thought the men would get into, as well as the girls.
1) Baby Guessing Game:  The parents do not the gender of the baby and are still trying to come up with names. So, Kim and I (mostly Kim since this falls under the "arts and crafts" category for me) made a grid where the guests had to guess if the baby is a) boy or girl b) due date c) weight and d) name. Some of the names were hilarious and I got yelled at for predicting a baby over 8 lbs. Whoops! I should have known better.
2) How Big are Both Parents: For this game, we had the parents-to-be hug, facing each other. The guests had to guess how many toilet paper squares around they were! The future grandmother won this one!
3) Baby Bootle Beer Chugging: I know. This is not typically a game you see at a baby shower, but then again, most baby showers aren't couple showers either! We filled baby bottles to the 6 oz. mark with a light beer and had the guests drink the beer out of the nipple as fast as they could. After a couple of minutes, it was obvious the beer was not coming out very fast so on the count of three, the nipples came off and it was time to chug. My….that sounds bad, doesn't it? Anyway, about half of the guests participated! It was pretty hysterical to watch!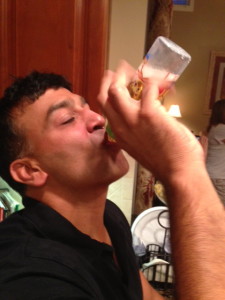 In closing:
The baby shower was great and I think everyone had a very fun time. As you can tell, I had to lean on some friends to help out in a few areas. When you realize you can't do it all yourself, it takes some stress out of party planning! Throwing parties should be fun! It's ok to ask for help if you need it. Your friends will be more than happy to help you out!