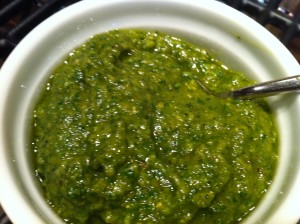 With the chill in the air, it reminds me it won't be too much longer until our first frost. For some of you, that will come a lot sooner than it will for us in Atlanta but it's coming! I love the cooler weather, but it does make me at least a little sad I won't be able to walk outside and cut fresh herbs for dinner.
Never fear, there are ways to preserve those herbs in different forms to last you through the winter. My basil right now is out of control!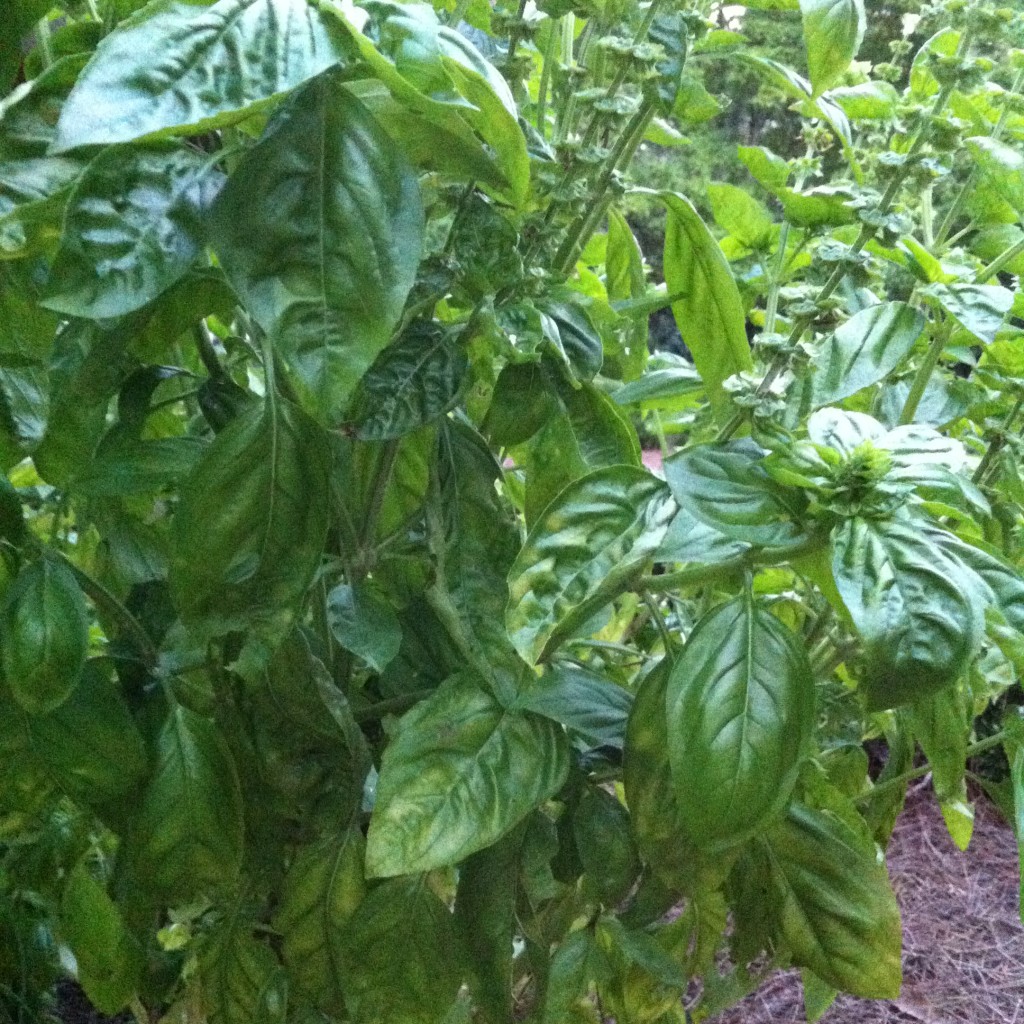 This is a perfect time to cut a lot back and make pesto sauce. Pesto tastes great on pasta, pizza, fish and much more.
Best part about it – it freezes remarkably well. In fact, people make pesto sauce, freeze it in ice cube trays until solid and then transfer to freezer zip top bags to be used one cube at a time all winter. Try it out!
Level of Difficulty: Easy
Time Required: Prep Time – 20min
Ingredients:
4 cups basil leaves (you'll want to pack them if you actually measure them)
1/2 cup pine nuts or walnuts (your choice)
4-5 cloves of garlic depending on your taste
about 1 cup quality olive oil (depending on the use for the pesto – for pasta I add a little more)
3/4 cup freshly grated Parmigiano Reggiano
salt and pepper to taste
Special Equipment and Other Items Needed:
How to make basil pesto sauce:
Remove the basil leaves from the stem. Peel the garlic cloves. Measure out your ingredients. Grab your food processor with the chopping blade and you are ready to go.
Place the basil, nuts, garlic and salt and pepper in the food processor.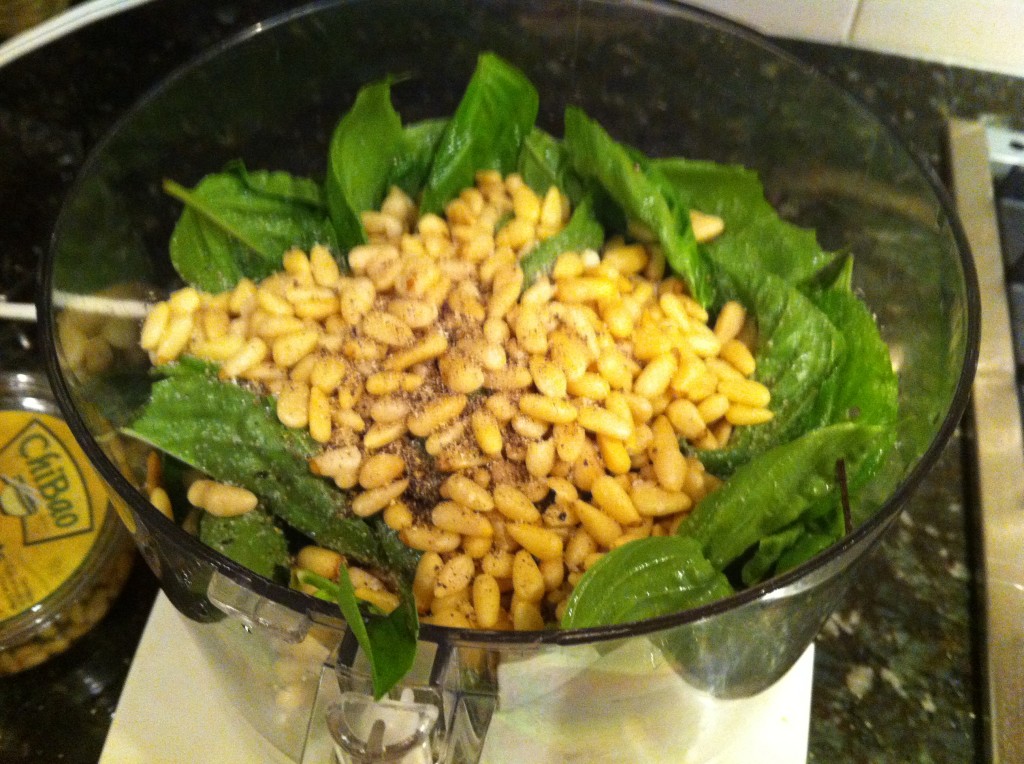 Blend until pureed. With the top on the food processor and the blade running (but the little stopper removed from the tube), slowly pour in the olive oil until blended and at your desired consistency.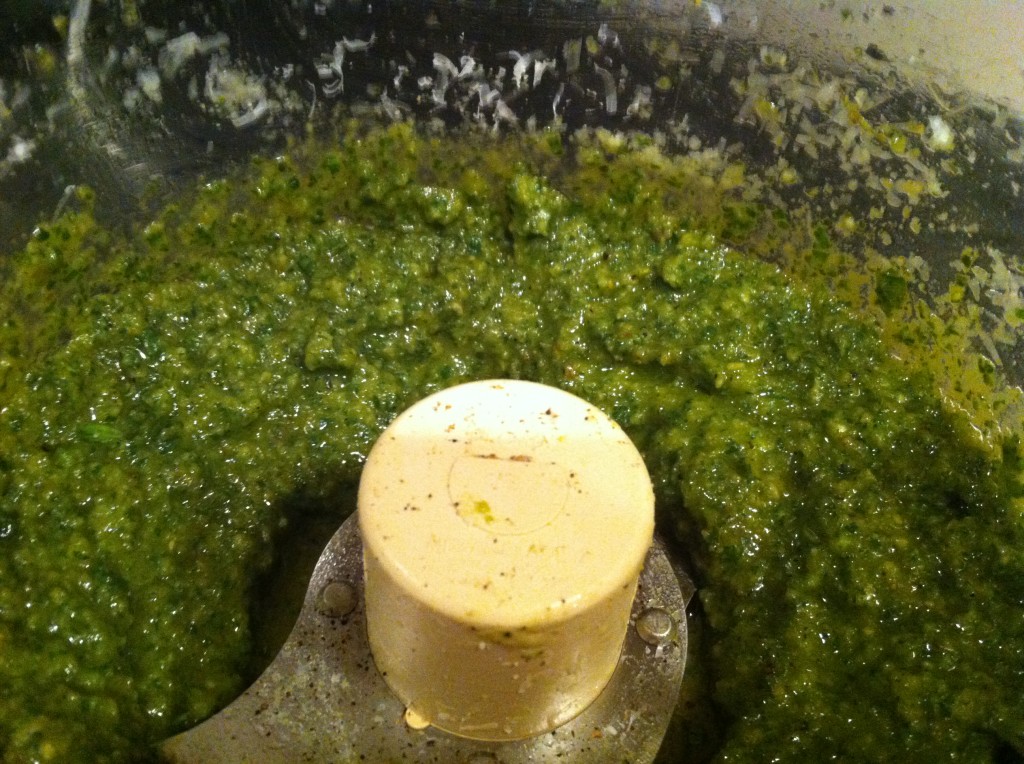 Remove the lid, add the cheese and blend until well incorporated. Taste. Add salt and pepper as needed. Serve immediately. See "Got Leftovers" for an important note if not using immediately.
Variations:
You can change the basil to something like arugula. Try it with pine nuts or walnuts or maybe even  a different one and see what you think. You can even swap out parmesan for pecorino or other hard Italian cheeses.
Meal Ideas:
Toss it with your favorite pasta – orecchiette shown here (topped with fresh mozzarella and fresh diced tomatoes).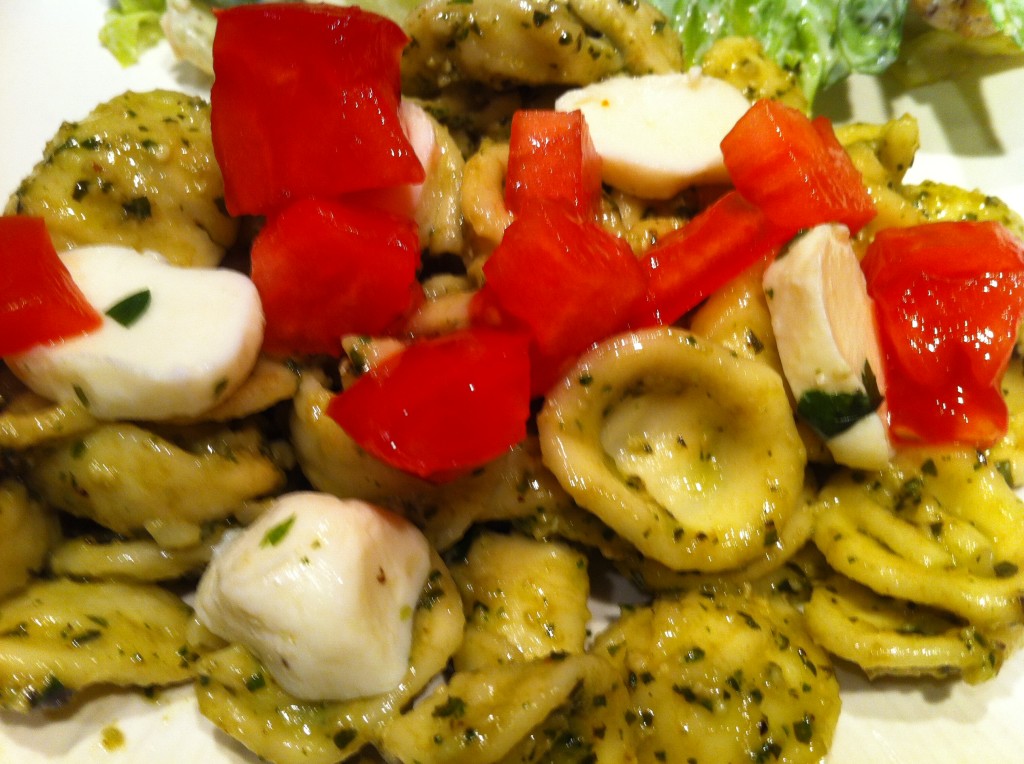 Use it as your sauce for a pizza and top with grilled chicken, sun dried tomatoes, and fresh mozzarella. Also great in a Stromboli.
Top salmon with it like this great recipe.
Got Leftovers?:
Pesto can freeze or stay in your fridge for a couple of days. It is critical to keep the air off of it so the basil doesn't discolor on you. If freezing, cover with plastic wrap where you slightly press the wrap against the pesto to remove any air from touching it. Once it is frozen you are ok.
If leaving in the fridge, place in a container and cover with olive oil to keep the air off before sealing the container.