Last night was Beerfest. We ended up having 15 people due to some people having to cancel. No worries, though. That always happens when you plan a large get together. As I mentioned before, I made ribs, drunk chicken, beer cheese soup and fried pickles. I will be honest and tell you that the chicken was probably the most moist chicken I have ever had. Despite my better judgement, I used Budweiser for the beer. The smell of that beer is not exactly pleasing to me and it brings back some bad memories, but a lighter beer in a can is what was needed, so I caved. Who knows, maybe that's why the chicken was so moist?!!!!! The ribs were as good as our local BBQ joint if I do say so myself. I did two things differently 1) After an hour and 45 minutes in the oven, I turned the oven but kept the ribs covered in there for about another hour and a half 2) I used Sam Adams Oktoberfest beer. I will post the recipes for the fried pickles (amazing) and beer cheese soup (also wonderful) later this week.
We had a family bring beer cheese bread (that was great dipped in the soup or by itself) and beer bacon macaroni and cheese. Probably no explanation is needed for that!!! All sorts of goodness in one dish!!! They also brought 2 growlers of beer and a growler of root beer for the kids. One growler was hazelnut and one was pumpkin spiced. I was a little hesitant as I have never been one for flavored beer. HOWEVER, these were AMAZING!! If you have a place near you that sells growlers, I would highly recommend you trying it out!!
Another family went healthy and brought a nice leafy green salad with a beer vinaigrette dressing. It was really very good and the leafy greens added some nice color to our plates. No, I don't have the recipe for that, but I will try to find one similar as I will use it as a regular homemade dressing.
The comedy of the night came from our friend who's wife just had a baby. Remember….our one "rule" was everyone had to bring a food item with beer. He thought "out of the box" and brought a food item with a side of beer. He picked up some wings (always good with beer) and grabbed a 4 year old Busch beer camo can that he has had in his fridge for over 3 years. We kept teasing him that the person who gave it to him must not like him much. Busch? In a can? Really? We had some laughs and decided that the beer can will follow us to future get togethers and be our new "mascot".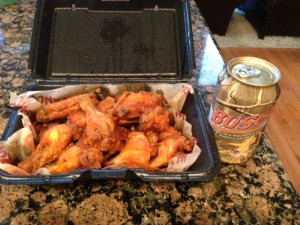 At some point through the course of the night, the conversation turned to "What fest is next?" We've down Baconfest and Beerfest. Brocollifest was obviously shot down and we quickly agreed on Bourbonfest!!! Lots of yummy recipes to choose from!!!! Stay tuned!