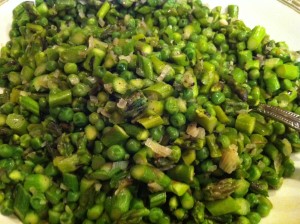 I'm always trying to think of new ways to prepare some of my family's favorite green vegetables. Somehow, I've been lucky enough to have a family who loves asparagus. I have a great cold salad recipe for snow peas and asparagus (I need to make that and post it sometime!), so I thought a warm side dish with regular peas might be nice too. Plus, it was my turn to bring a green vegetable for my monthly potluck dinner with a group of friends and I thought this recipe with asparagus would do the trick.
Level of Difficulty: Easy
Time Required: Prep Time – 20min; Cook Time – 10-12 min
Ingredients for about 20:
3 bunches of asparagus
16oz frozen peas
3T butter, divided
2 shallots, diced
1 T Dried basil
2t red pepper flakes
salt and pepper
drizzle of olive oil
How to make peas and asparagus:
Finely dice the shallots and add to a large skillet with 1 T of the butter. Saute until tender.
While they are sautéing, cut the bottom 1-2 inches off of your asparagus and discard. Then, slicing on a bias, cut the asparagus into small, pea sized pieces.
When the shallots are tender, add the remaining 2 T butter, asparagus, olive oil and spices. Stir to incorporate everything together and cover on medium heat for about 5 minutes.
Uncover, add the frozen peas, stir and cover again for about 5 more minutes. Check the tenderness of the asparagus and cook for a couple of more minutes or until desired tenderness. Serve and enjoy.
Since I was going to a potluck, they had to hold for about an hour. I loosely covered with foil so the steam would not stay in and keep cooking them. They tasted great luke warm too!
Important Tips:
Cutting the asparagus on a bias will make them 'prettier'. Not sure what a bias is? Watch our video!