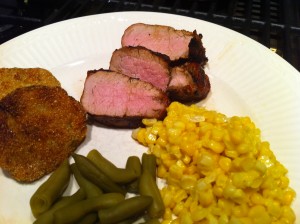 Last week we were threatening to have our first Fall frost in Atlanta. My summer garden still had quite the harvest on the bushes and vines so I made a mad dash to pick the last of the crop. That meant a lot of green tomatoes! I went ahead and picked them and decided to make some fried green tomatoes since my daughter and I love them so much.
From there, I looked in the fridge for what else I had. Corn on the cob, green beans and pork tenderloin were amongst the items I plucked out.
One more hiccup, my daughter has braces now so corn on the cob wasn't going to work. Creamed corn it is!
Level of Difficulty: Moderate
Time Required: Prep Time – 45min; Marinate time 2 hrs to overnight;  Cook Time – 45 min
Recipes:
Melissa's grilled pork tenderloin
Green beans – I made mine "southern style" to go with the menu which means you string them and simmer them in chicken stock and bacon until really soft.
Special Equipment and Other Items Needed:
Frying requires a Lodge cast iron skillet
Preparation:
The recipes have the details, but here are some bigger picture things.
First things first, put the simple marinade together for the pork and start that process.
Snap your beans and get them cooking.
Cut the corn from the cob and put in the skillet with some salt, pepper and butter.
Salt and pepper your sliced green tomatoes to get some of their water out.
From there, you can start the grill. Once the pork is cooking, start the corn on medium or medium-low heat.
When the pork is half done, start the tomatoes.
By the time the beans, tomatoes, and corn are all ready, the pork should have had time to rest and be ready to slice. Yum!