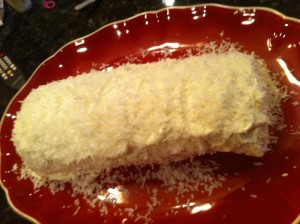 Desserts are a key to Thanksgiving dinner. I am not a huge dessert person, but I can't say that about everyone so I try to step it up around the holidays. I usually have people bring pies since I just don't like making them, but we do make a few other yummy sweet things. Here are some great ideas that feed lots of people and are very holiday-ish!
Coconut Roulade with Rum Buttercream
If you need a holiday dish to serve desserts on, give this one a try!