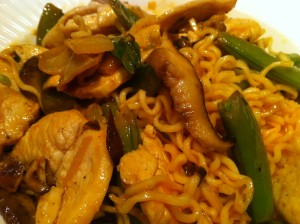 Scrambling for a dinner idea that isn't baked chicken, a vegetable and a starch? Try this for a last minute throw together, serve and enjoy it's yummy deliciousness. Asian noodle stir fry is always a hit at my house, probably because I don't think I've ever made it the same way twice.
Level of Difficulty: Easy
Time Required: Prep Time – 30min; Cook Time – 30 min
Ingredients:
3 green onions
4 oz wild mixed mushroom blend (if your grocer has it, otherwise whatever fresh mushrooms you like)
Your Favorite Stir Fry Sauce, I used a jarred Pad Thai sauce even though this is not Pad Thai, because it is not too spicy for the kids
2 cups fresh snow or sugar snap peas, cut into bite sized pieces
3 cloves garlic, minced
1.5 lbs boneless, skinless chicken breasts
2t sesame oil
8 oz canned bamboo shoots, drained
10oz Asian noodles, I used Chuka Soba (the curly ones) for this dish and they turned out nicely
Vegetable or Sunflower oil
salt and pepper
How to make an Asian noodle stir fry:
This is easy and will be delicious if you stick with the veggies you like. If you don't like one of the ones above, swap it out with what you do like and just cut it into bite sized pieces.
I like to prep all the veggies before I touch the chicken even though I cook it first. It just helps me feel better about any accidental cross-contamination. Also, in my house, when I'm feeling a bit 'lazy' in my parenting, I might keep some of the vegetables separate from each other so I don't have to fight, I mean, lovingly convince my children to eat something they are not familiar with.
This was one of those lazy nights, so I left the onions, bamboo shoots and mushrooms separate from the sugar snap peas.
I placed 1-2T oil in a skillet and sautéed the mushrooms over medium high heat until they started to wilt. I then added the bamboo shoots and stirred. Then the green onion, garlic and about 2 T of the pad thai sauce and cooked for a couple of minutes and then set it aside.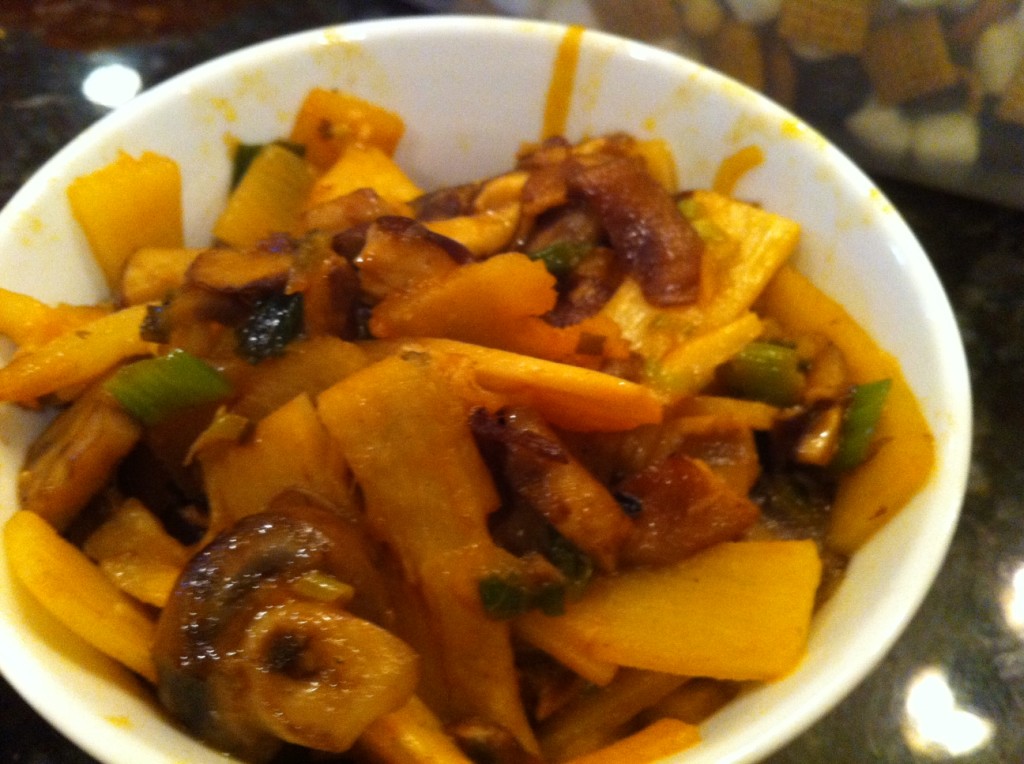 Reusing the empty skilled, I then added a touch of oil and the sugar snap peas and sautéed for a couple of minutes before adding another couple of tablespoons of the pad thai sauce. Again, I set aside. Did a quick wipe out of the skillet, added some more oil in preparation for the chicken.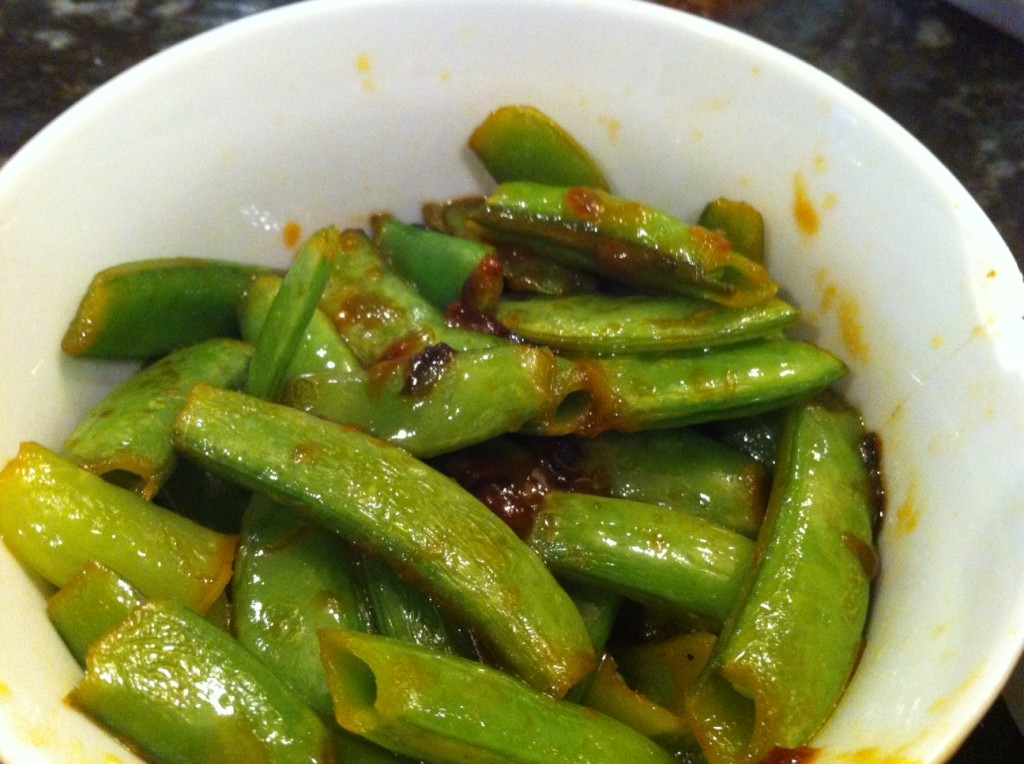 I then started a large pot of water to boil for the noodles.
Time for the chicken, here I like to slice the chicken breasts nice and thin for quick cooking and ease of eating.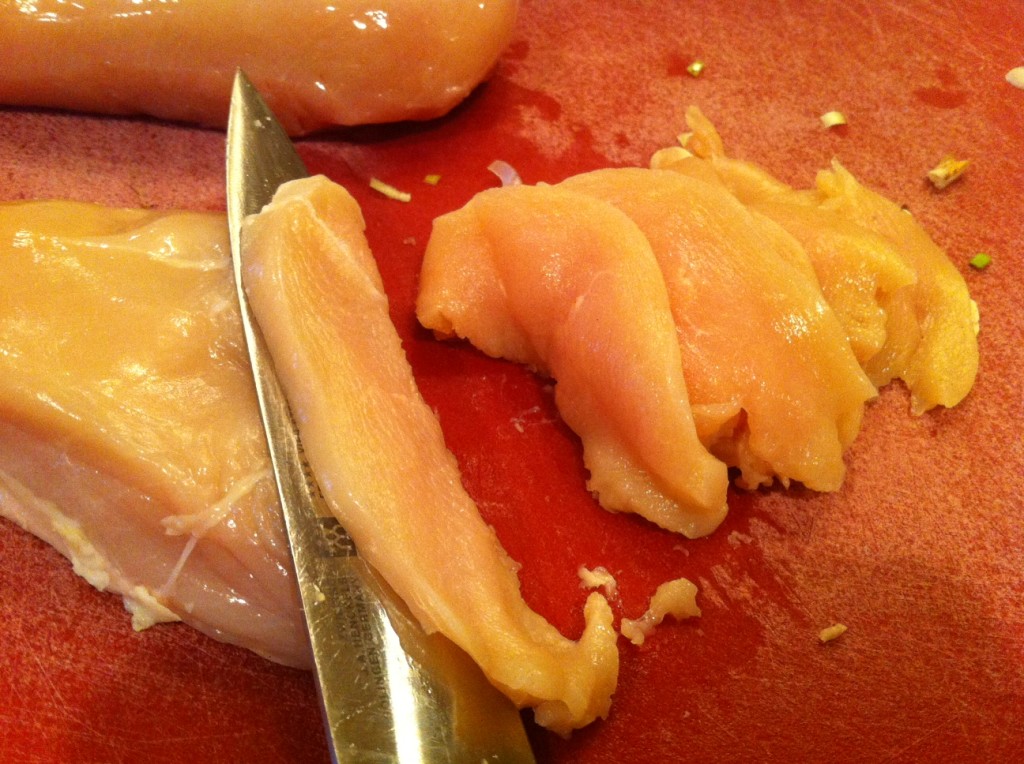 Salt and pepper the chicken and drizzle a touch of sesame oil (just a touch!).  Add to hot skillet over medium high heat and let cook without stirring too much.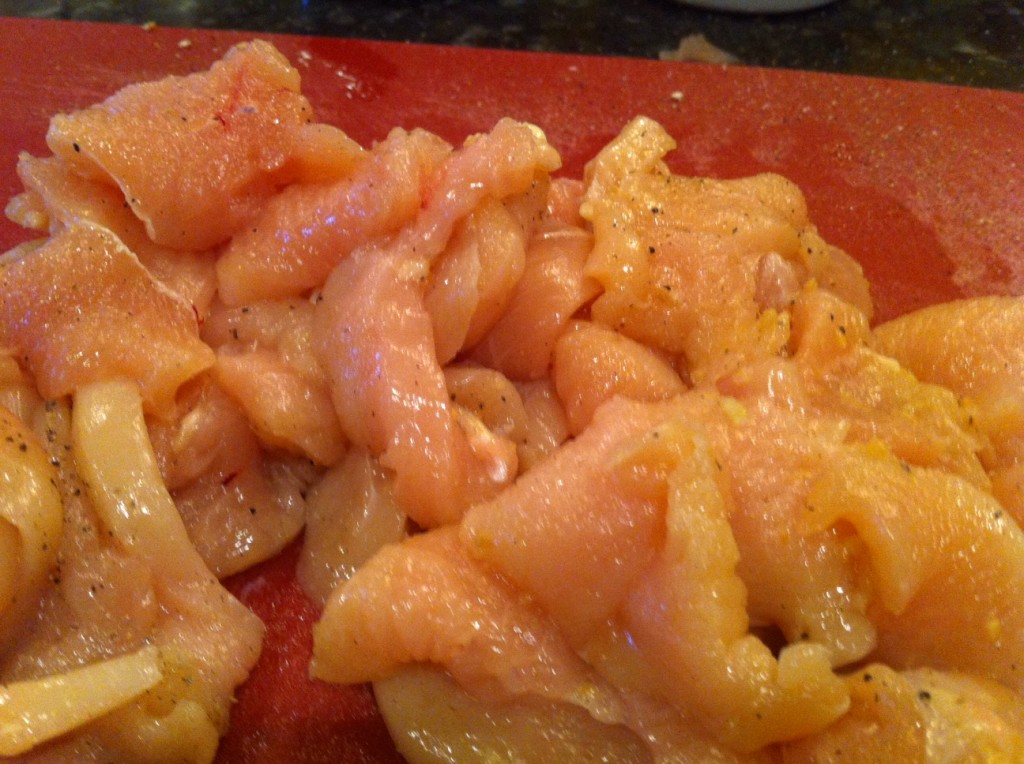 The water should be boiling by now, so add your chuka soba noodles. They will only take about 3 minutes. Use some tongs to help separate them. When tender, drain and hold until everything else is ready.
When chicken is cooked through, add the vegetables and noodles and enough sauce to coat. Toss and warm everything through then serve. If you are doing a separate, kid-friendly, one, toss in a separate bowl with just the right ingredients.
If you want to 'kick it up a notch', drizzle some sriracha on top!!