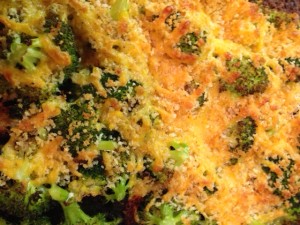 My kids love broccoli with cheese sauce. You know the kind you get in the freezer section at the grocery store? Well, I'm always trying to find new ways to cook the foods that they like so they won't get bored. I came up with this recipe for roasted broccoli with cheddar cheese and breadcrumbs below from several recipes that I have recently come across.
Level of Difficulty: Easy
Time Required: Prep Time – 5 min; Cook Time – 25 min
Ingredients:
4-5 cups of broccoli flowers, washed
3 T. olive oil, divided
1/2 salt
1/2 c. Panko breadcrumbs
1 c. cheddar cheese
1/4 tsp. nutmeg
Preparing Roasted Broccoli with Cheddar Cheese and Breadcumbs:
Preheat oven to 425 Degrees. Place broccoli on a baking sheet and toss with 2 T. olive oil and salt. Roast for 15 minutes. In a small mixing bowl, mix together breadcrumbs, cheddar cheese, 1 T. olive oil and nutmeg. Sprinkle over the broccoli.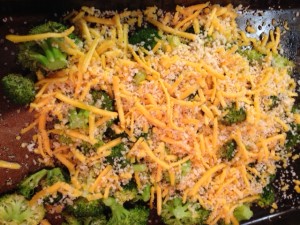 Roast for an additional 10 minutes. Serve hot.