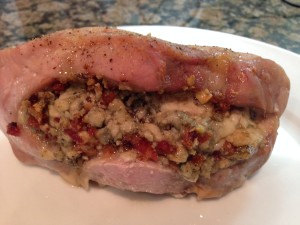 Don't let the words "Stuffed Pork Chops" scare you into thinking that they are hard to make. This recipe for Stuffed Pork Chops with Blue Cheese and Bacon is super easy. If you already have the bacon cooked, it takes virtually no time to prepare, but looks like you've spent hours laboring over such a delicious dish!
Level of Difficulty: Easy
Time Required: Prep Time – 10 min (40 min. if you need to cook the bacon); Cook Time – 20 min.
Ingredients:
4 thick cut boneless pork chops
4 oz. blue cheese
4 slices bacon, cooked and crumbled (Applewood Smoked is the best, but any will do)
1 tsp. garlic powder
salt and pepper to taste
Preparing Stuffed Pork Chops with Blue Cheese and Bacon:
Preheat oven to 325 Degrees. Spray a baking dish with your favorite cooking spray. In a small bowl, mix together blue cheese and bacon. Set aside. Cut a pocket into each pork chop. You want to leave about 1/4 inch on each side and about a 1/4 inch at the back. Stuff each pork chop with blue cheese mixture.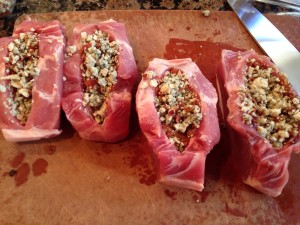 Secure with a toothpick, if necessary. Sprinkle the outside of each pork chop with 1/4 tsp. of garlic power and salt and pepper to taste, keeping in mind that both the blue cheese and bacon are salty.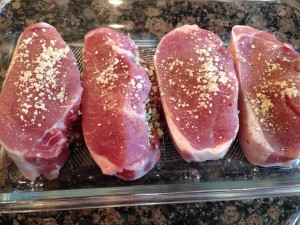 Place chops in baking dish and bake for 20 minutes, or until desired doneness.