French toast is a great way to use up from leftover French bread. It just takes a little bit of planning so you can soak it. It's a great treat for the kids in the morning and doesn't take a lot of hands on time.
Level of Difficulty: Easy
Time Required: Prep Time – 2 hours; Cook Time – 10 minutes
Ingredients:
6 slices French Bread, 1 1/2 inch thick
6 eggs
splash of milk
1 tsp. vanilla
Preparing French Toast:
Put the bread in a casserole dish just large enough to hold them all. In a mixing bowl, mix together eggs, milk and vanilla. Pour egg mixture over bread. Poke holes in the bread. Turn the bread over and poke more holes. Let sit in the refrigerator for at least 2 hours.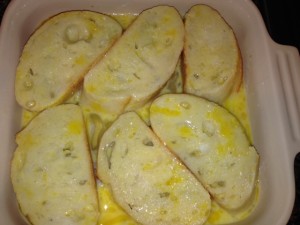 Heat a pan or skillet over medium heat. Cook for about 3-4 minutes per side. Serve with syrup.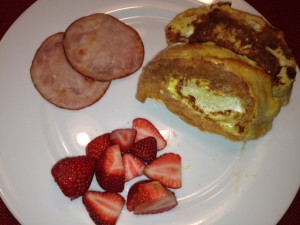 Important Tips:
Make sure you let the bread soak in the egg mixture for at least a couple of hours so it's not too dry.
Meal Ideas:
Make a breakfast protein and serve up some fresh fruit for a complete meal to start your day off right!