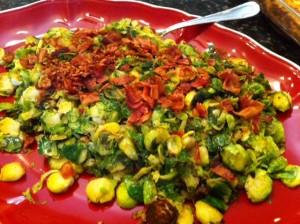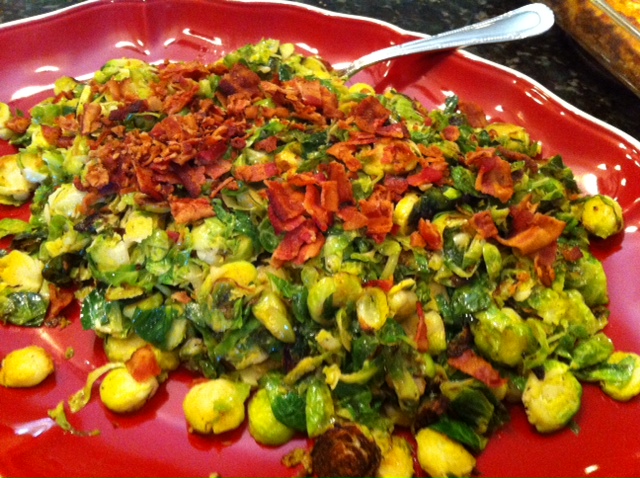 If everything goes better with bacon, then Brussels Sprouts with Bacon must be good too, right?!
So during the "Ice-ma-geddon" in Atlanta the other day, I decided to make pancakes and bacon for breakfast. Well, what do you do when you make enough bacon for an army and have the decency to not eat an entire pound of it all by yourself? Well, then you have leftovers. Leftovers means Brussels Sprouts with Bacon. Simple and delicious. Maybe a tiny bit healthy still? Not sure about that.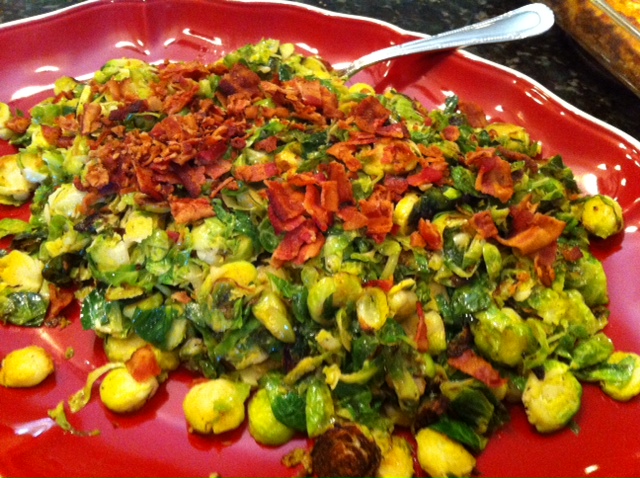 Level of Difficulty: Easy
Time Required: Prep Time – 15 min; Cook Time – 30 min
Ingredients for 6 people:
1/2 lb bacon, cooked (not eaten yet!!), crumbled (seriously, don't eat it) with fat (aka grease) reserved. If you need to, cook an entire lb of bacon (1/2 to eat and 1/2 to use in the dish)
2lbs Brussels Sprouts
Salt and Pepper
How to make Brussels Sprouts with Bacon:
Cook the bacon until crisp. Drain on paper towels. Set aside under lock and key.
Trim the bottom off the Brussels Sprouts. Slice them into 4-5 slices per sprout.
Place 2-3T of reserved bacon fat in a skillet over medium heat. Add the Brussels Sprouts. Saute for about 15 minutes until crisp tender. Taste and add salt and pepper as desired.
Place on serving dish and top with the crumbled bacon. You will want to stir it in a little bit so people don't scoop just the bacon off the top because you know they will!! I would!!
Meal Ideas:
This is a great side dish to just about anything but maybe best with bacon wrapped beef tenderloin, bacon wrapped green beans and bacon and cheddar biscuits!!! Ha ha! Oink! Oink! Don't tell your doctor I suggested that!!