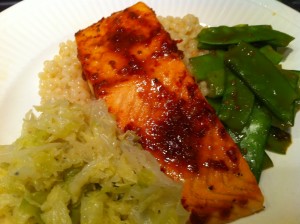 Well, isn't this a walk through healthy but delicious and satisfying at the same time!!! I made this entire meal with about 2T of olive oil as the only fat and (in a rush with my chop on) did the entire meal in about 40 minutes!
Level of Difficulty: Easy
Time Required: Start to end time 40 min – 1 hr
Ingredients for 4:
Salmon:
4 4-6oz filets of salmon
4T Chili Garlic Sauce
3T low-sodium soy sauce
salt and pepper
Snow Peas:
1 lb snow peas
4T Terriyaki sauce
1/4 cup water
Cabbage:
1 head Napa cabbage, chopped
1 leek, sliced into thin rings and rinsed
2T Olive oil
1/2t Anise Seed
1 1/2 cups low sodium chicken broth
2T rice wine vinegar
1T sesame oil
salt and pepper
Couscous:
2 cups Israeli Pearl Couscous
4 1/2 cups low-sodium chicken broth
Special Equipment and Other Items Needed:
Parchment paper for super easy cleanup
How to make chili garlic glazed salmon and all those yummy sides:
Chili Garlic Glazed Salmon:
Place the salmon filets on the parchment paper. Sprinkle with salt and pepper. Mix the chili garlic sauce with the soy sauce in a small bowl then evenly spoon over the salmon filets and spread all over. Preheat oven to Broil. When the cabbage is done (see below), and the couscous is added to the boiling stock, put the salmon in the oven. Depending on the thickness of the salmon, it will take 5-8 minutes to cook. I like my salmon 'medium-rare'. Cook it longer and it tastes like canned salmon to me.
Snow Peas:
Prepare snow peas like this . Let them soak in cold water as long as you can (why I started their prep first) and then in the last 5 minutes of total meal cook time (after salmon has been in the oven a couple of minutes), place in skillet with about 1/4 cup of water, turn on high and steam for about 3-4 min then drain remaining water and add your favorite teriyaki sauce, stir and they are ready to serve.
Cabbage:
I essentially did something like the link but did add some anise seed, sesame oil and rice wine vinegar to just give it a touch of Asia flavor. In order of events, this was my second item to prep and the first to start cooking since it takes the longest and holds the best.
Israeli Pearl Couscous:
The key here is to cook 1 cup of couscous to 1 1/4 cup of CHICKEN STOCK. No butter needed. No salt needed. Don't use water and you'll be well rewarded. It takes about 10 minutes to cook once you add it to the boiling stock and you'll want to drain any remaining liquid when the couscous is done.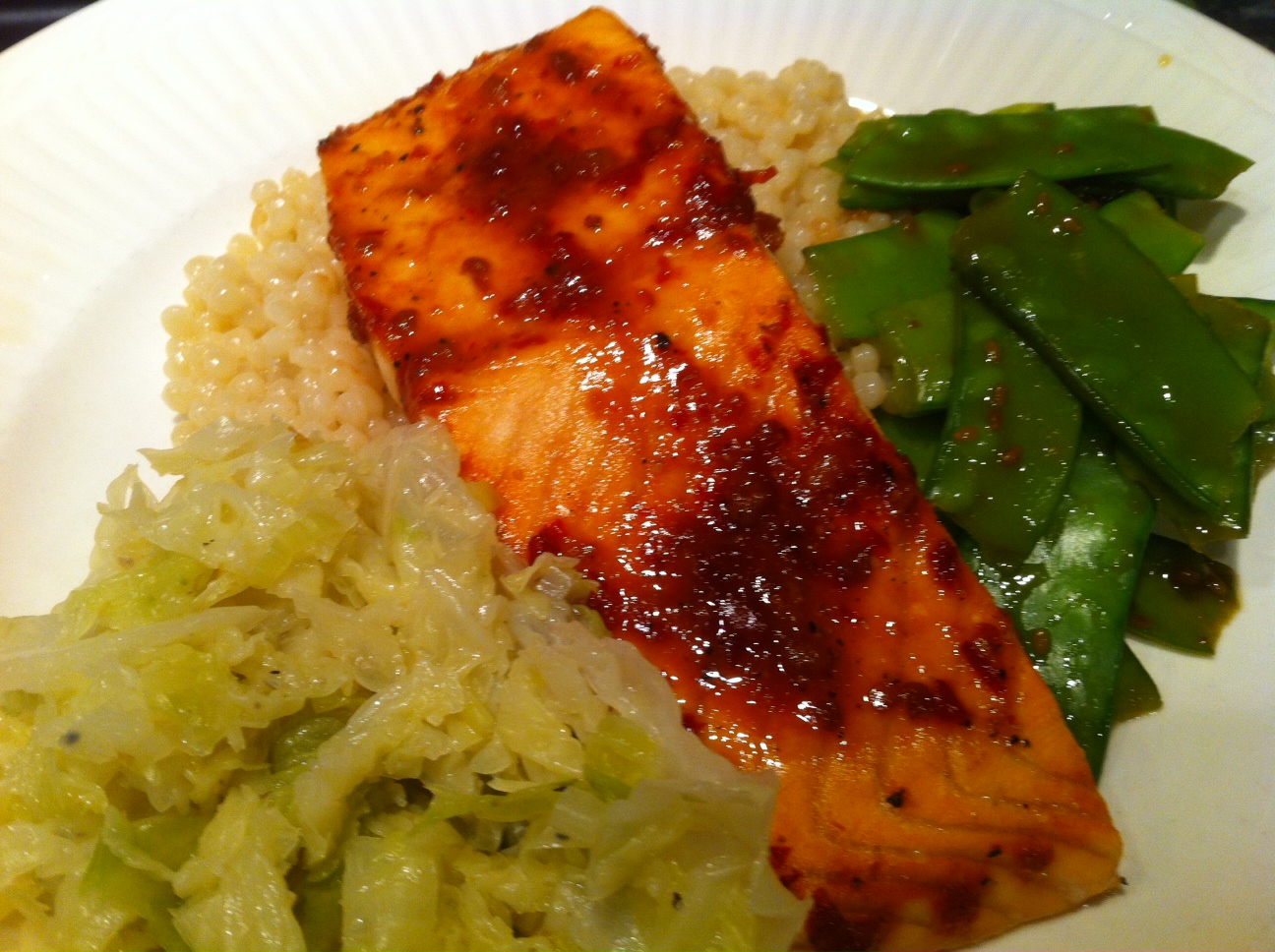 Important Tips:
Don't overcook the salmon
Don't overcook the couscous
Don't overcook the snow peas
tee hee hee hee
Got Leftovers?:
If I have leftover salmon, I will flake it up, mix with some mayo and Greek yogurt, capers, Dijon, etc and eat it with some crackers or on a salad.