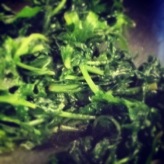 I know Melissa is going to lose it when she reads "bag of fresh, pre-washed kale". The day that this sautéed kale with coconut oil was on the menu, was a day that I had meetings most of the day and had virtually no time to get a labor intensive meal together before leaving at 5:00 to take my son to lacrosse practice. I basically got everything prepared and left my daughter to actually cook it. It was much easier for me to tell her to "use half a bag" of kale, or "whatever looks like a good amount," than to wash, cut, trim, and chop fresh kale and deal with any leftovers. It just wasn't happening that day. Anyway, she made the sautéed kale with coconut oil with absolutely no problems and it turned out to be delicious. The coconut oil makes the difference! If a 12 year old can do it, so can you!
Level of Difficulty:Easy
Time Required:Prep Time – 1 min; Cook Time – 5-10 min
Ingredients:
1 bag of fresh, pre-washed kale
2 – 3 T. coconut oil
salt and pepper
Preparing Sauteed Kale with Coconut Oil:
Put coconut oil in a large skillet and turn to medium high. Add kale, in batches, sautéing until it begins to wilt. Keep adding more kale in batches until you have made your desired amount. Season with salt and pepper.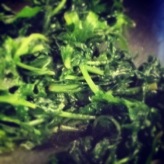 Seriously?! You've got it so wrong. I often use 'bags of pre-washed and cut' greens. They are beyond convenient. BUT, sometimes, you need to cut it your own way and need to start with the whole leaf. I'm not that annoying, am I??? ~Melissa