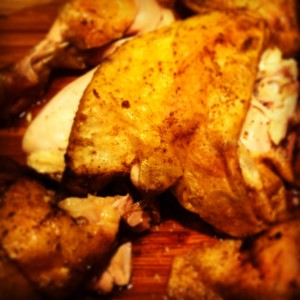 OK, so Denise and I set our one menu two ways and said we were both going to do roasted chicken. Well, I decided that roasting on the grill would be ok too. Instead of a more standard spice rub, I thought I'd try mixing different spices together and roast it using a beer can chicken rack (since I don't buy beer in cans). It turned out extremely moist and everyone loved the savory and almost sweet blend of different spices. It was definitely different without any type of pepper.
In the future, I think I might just call this Roasted C-cubed Chicken.
Level of Difficulty: Easy
Time Required: Prep Time – 5min; Grill pre-heat – 10min Cook Time – 1 1/2 hour
Ingredients:
1 young chicken about 4-4 1/2 lbs
2T coriander
2T cumin
2T cardamom
2T salt, plus 1t salt separate
6oz beer, a nice hoppy ale will be perfect
Special Equipment and Other Items Needed:
I used a beer can roaster, but you can just use an actual beer can. There just are not that many good hoppy ales sold in cans these days.
How to make Roasted Chicken with Coriander, Cumin and Cardamom:
Start your grill on high heat to get nice and warm.
Mix all the spices together in a small bowl (before you start touching chicken). Remove any 'innards' from the chicken cavity and rinse it with some water. Pat it dry with a paper towel. Generously rub the outside of the chicken with the spices. Use the extra teaspoon or so of salt to season the inside of the chicken.
Pour 1/2 of a bottle of beer into the beer can chicken stand. Place the inside of the chicken over the beer holder with the legs facing down (like the chicken is running around with its head cut off).
Turn your gas grill down to medium heat or setup for indirect heat on your grill. Set the roasting pan on the grill, close the lid and walk away. You should check on it every 10-15 minutes to make sure you don't have any flare ups and turn the pan half-way every 20 minutes or so for even cooking. My bird took 1 1/2 hours to be done (I cook mine to about 160 degrees when testing in the thigh). When done, remove and let rest for about 10 minutes.
Separate the pieces and serve! Yummmmm

Important Tips:
Don't forget to season the inside of the chicken before roasting.
Variations:
Because of the savory/sweet flavor profile, I think this would have been even better if I had drizzled a little honey on it just a few minutes before removing from the grill.
Meal Ideas:
I served this with a fresh kale, apple and feta salad and my version of a cross between a Potato Galette and Potatoes Anna.
Got Leftovers?:
Extra roasted chicken can be used for anything! We just ate it cold the next day for lunch.
…and so it begins. Roasted chicken on the grill? Nice one. This is something that I would do on the weekends, since it takes a little more hands on time than mine. -Denise
I threw you a softball on the C-cubed chicken name and you didn't slam me for being a math nerd!?!? Are you getting soft in your old age? ~Melissa
C-Cubed? You've got to be kidding me. Do you really think I even got that? My math days were over in 11th grade. Thanks for calling me out on that one. That's just awesome! -Denise
Oops. Sorry about that. ~Melissa