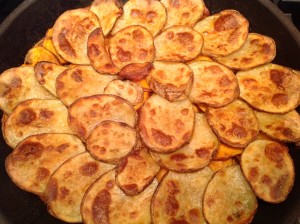 Denise is always busting my chops about being more 'fancy' of a cook than her, so with our inaugural 'one meal two ways', I decided I better not disappoint. For my potato side dish to accompany the roasted chicken, I decided on a traditional accompaniment of a Potato Galette. However, I think mine turned out more like a Potatoes Anna or Pommes Anna. Quite honestly, I have no idea what the true difference is between the two so I'm not sure which one I made!!
Regardless, because we are trying to cut back on white potatoes in our house, I mixed the Galette with sweet potatoes too. They were a hit although I did not think they were crispy enough…but there is always a next time.
Level of Difficulty: Moderate
Time Required:Prep Time – 20min; Cook Time -45 min
Ingredients:
2 russet potatoes or 3-4 Yukon gold
1-2 sweet potatoes depending on size
salt and pepper
3 T butter
olive oil
Special Equipment and Other Items Needed:
Cast iron skillet is the best one to use for this recipe. You may also need a mandolin to slice the potatoes thin.
How to make a potato galette or potatoes Anna or whatever it is I made:
Preheat oven to 400 degrees.
Using a mandolin or really good knife skills, slice the potatoes (both kinds) into 1/8″ thick rounds.
In a cast iron skillet drizzle some olive oil and place 1 T of butter over medium-high heat. This will help the butter not burn.
Begin placing the white potatoes in a circle around the skillet, slightly overlapping each potato until the bottom is covered. Being careful not to burn yourself, press the potatoes down. Sprinkle with salt and pepper and drizzle with olive oil. Add a layer of the sweet potatoes in the same method as before. Press them down, salt, pepper, drizzle. Add the final layer of white potatoes, press, sprinkle, drizzle.
Let cook on the stove for about 10-15 minutes so the bottom gets a bit brown. Dot the top with the remaining butter and transfer the skillet to the oven and cook until the top is crispy and the potatoes are tender.
Remove from oven and let sit for a minute, then use a knife to peel the potatoes from the edge. Place a serving plate over the potatoes (upside down), turn the skillet and plate over in a swift motion, say a little prayer and hope the potatoes come out on the platter.
A couple of mine were still in the skillet but I just gently removed and placed back on top.
Use a sharp knife and cut the galette into wedges and serve. Mine wasn't pretty enough to take pictures of after I cut, but it still tasted really good. The sweet potatoes mixed in went really well with my more savory roasted chicken.
Important Tips:
I'll figure this out the next time I do it and perfect it….
Variations:
You don't have to use the sweet potatoes and a lot of traditional recipes call for thyme or rosemary in the galette, but I just did not want that flavor profile with my roasted chicken.
Meal Ideas:
Serve with any roasted/grilled protein. I served with Roasted Chicken with Coriander, Cumin and Cardamom and a kale salad with apples and feta.
Are you kidding me? I'll be the first one to say it…I have no idea what Potato Galette or Pommes Anna are. Time to make it VERY clear that my dinner had to be prepared by me then cooked by my 12 year (who did an amazing job by the way) on an extremely busy school night!! -Denise
Isn't that 'convenient' (said like the Church Lady from SNL) to choose to cook in our little competition on a night you have no time! ~Melissa