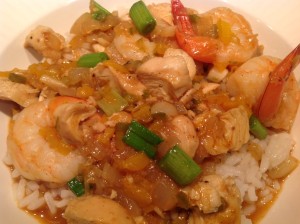 Mardi Gras or Fat Tuesday only comes once a year and this year I opted to celebrate by making a Chicken and Shrimp Etouffee recipe. I'd never made it myself but knew I wanted something that was a bit lighter than what you might get from a more standard etouffee, so I adapted it from this recipe. Although everyone doesn't like seafood, I made this with shrimp as well as the chicken as they are super easy to pick around and that just means more shrimp for me!!
Level of Difficulty:Moderate
Time Required: Prep Time – 20min; Cook Time – 30 min
Ingredients for 4-6 people:
1/4 cup canola oil
1/4 cup flour
1/2 jalapeno, diced
1/2 onion, diced
Yellow bell pepper, diced (I don't like green bells and I did not want the color to stand out)
1/2 celery stalk, diced
3 cloves garlic, minced
2 cups chicken stock
1T seasoning mix like fajita seasoning, southwest seasoning, or Cajun seasoning
1T sweet paprika
1t celery seed
1/2t salt
Green onions for garnish
1 1/2 lbs chicken tenders or boneless skinless chicken breasts
18 shrimp, peeled and deveined
2 cups rice
How to make Chicken and Shrimp Etouffee:
Season your chicken with salt and pepper or the same seasoning you are using in the etouffee and cook until just barely done in a skillet on medium-low heat. Set aside.
In order to have the time to devote to your roux, make sure you dice all your vegetables and measure out all your spices and chicken broth before you start anything else. Put the broth on the stove on low so it is nice and warm when you add it in a few minutes to your roux. Once your vegetables and spices are ready to go, start the water for your rice and have your 2 cups of raw rice ready to dump in the water when it boils. Now you are ready….
All good etouffee starts with an amazing nutty brown roux. Although making a roux is not difficult at all, you have to devote the time to do it, no walking away or checking a text message. Just stand in front of your pot and stir. If anyone asks you a question, tell them your busy and you'll get back to them. Seriously, barring a catastrophe, don't walk away!(I think I made my point).
Ok, in a large enough pot for all the rest of the etouffee ingredients, heat the canola oil over medium heat. Once warmed through, add the flour. Stir briskly to remove any clumps. Cook over medium heat for about 10 minutes, stirring constantly. You don't want this to burn and you don't want this to not cook long enough. You'll know it is good when it is a caramel brown color.
Once the color looks good, add your veggies and cook until tender (you can stop sweating now over the roux).
Slowly add the chicken broth, stirring constantly so it incorporates. Add the seasonings. Taste and add any more seasoning as desired. Let simmer a bit until the rice is almost ready. Cut up the chicken into bite size pieces and add to the pot. Add the peeled and deveined shrimp, cover and cook about 10 minutes on medium-low until the shrimp is just cooked through.
In a shallow bowl, add the rice, top with the etouffee and the green onions and enjoy!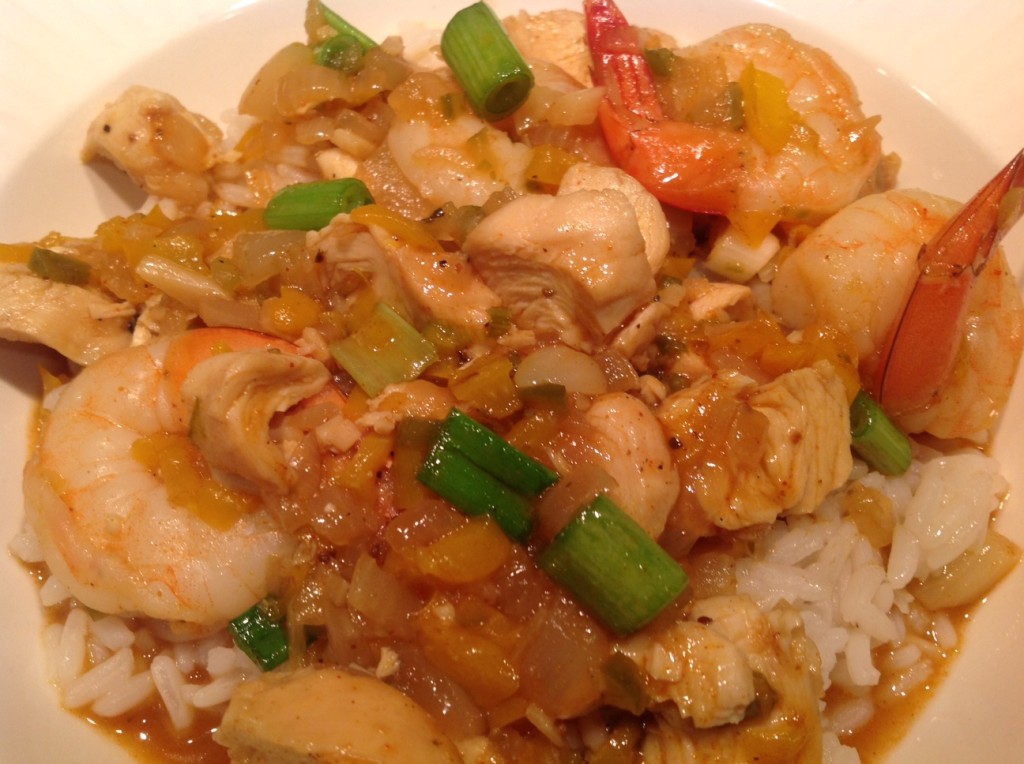 Variations:
Change out the proteins to any mixture of crawfish, shrimp, chicken, sausages, etc.
Meal Ideas:
This was the meal although I added some steamed broccoli because it is good for you!
Got Leftovers?:
This tasted even better the next day for lunch!!