Grilled corn on the cob is so easy to make and my family loves it. It's such a treat to have meals that are 100% on the grill because it makes cleaning up the kitchen so easy. The grill really is my non-human best friend. No, my coffee maker is. Wait…my wine opener. Too many choices…..never mind! The grill rocks!!!
Level of Difficulty:Easy
Time Required:Prep Time – 5 min; Cook Time – 30 minutes
Ingredients for 4:
4 ears of corn, husked
spread butter
salt and pepper
Special Equipment and Other Items Needed:
Foil
Preparing Grilled Corn on the Cob:
Preheat grill to medium-high heat. Make sure all of the silk (the stringy part that is sometimes on corn) is taken off. If you don't please make sure you have lots of dental floss available. Spread the butter on the corn and sprinkle with salt and pepper. Wrap tightly in foil. Grill for 30 minutes, turning about every 10 minutes for even cooking.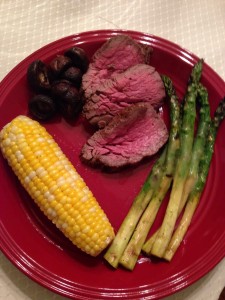 Can you call this 'grilled corn' if you wrap it in foil and the corn never touches the grill? Just sayin'! Oh, and choosing between wine opener, coffee maker and a grill is easy…grill wins every time! You can open wine without a wine opener and make coffee on a grill!! ~Melissa

I knew you'd love this one!!! Here's a question…can you call roasted chicken "roasted" when it's actually grilled? -Denise

It WASN'T grilled!!! It was cooked over a grill acting like an oven!~Melissa