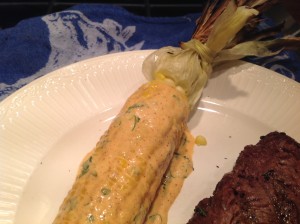 Since part of our "one dish – two ways" challenge was everything had to be cooked on the grill, I decided I needed to do something different with the corn. I've always heard about Mexican Street Food being famous for a grilled corn with lime, mayonnaise and cheese, so I thought I'd give it a try. I read a few recipes on the web and decided to adapt one of Tyler Florence's versions because I trust his style.
Level of Difficulty: Easy
Time Required: Prep Time – 10min; Cook Time – 15 min
Ingredients:
4 ears of corn in husk
1/4 cup cilantro, chopped
1t chili powder
3T mayonnaise
3T low-fat Greek yogurt
1 cup freshly grated parmesan or crumbled cojito cheese
UPDATE: I made this a 2nd time and just used mayo and no yogurt and jused the cojito crumbling cheese. WAY BETTER!!!
Special Equipment and Other Items Needed:
I use a microplane to grate my parmesan so it is nice a fluffy and melts easily
Preparation:
In a bowl, mix the yogurt, mayo, chili powder and cilantro together. Season the mixture with a little salt as needed. Grate/crumble the cheese into a separate bowl.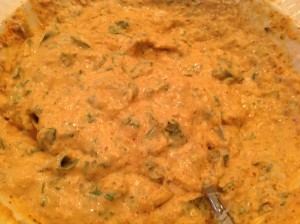 Heat grill to medium high heat.
Pull back husks on corn and remove silky threads. Return husks around corn. Place ears of corn in husks under some water to help prevent burning while they grill.
Place the corn on the grill and cook about 10-15 minutes or until done, turning every few minutes.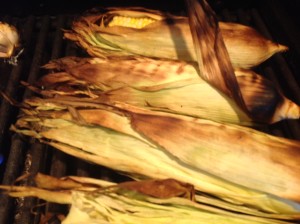 Remove from grill, pull back the husks to use as a handle, generously put mixture all over corn, squeeze some lime over top, top with the cheese and serve!
Variations:
I liked the corn, but next time I do it I will add the cheese on top instead of in the mixture (I already adapted the instructions above to reflect that – I mixed the cheese into the rest of the ingredients when I made it).
Meal Ideas:
This was part of Melissa's one dish-two ways meal which included Filet Mignon stuffed with spinach and manchego and a warm roasted tomatillo, onion and poblano salsa.
Doesn't that get all over your face when you're eating it? -Denise

Why, yes, yes it does! Is there a problem with that?! You don't like to get a little dirty sometimes? I thought you liked 50 Shades! ~Melissa