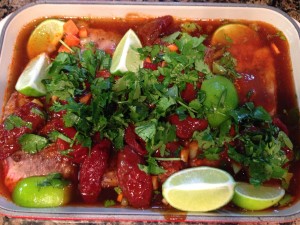 McNack's 1st Mystery Challenge basket included short ribs. I have never made short ribs before and knew that Melissa made delicious ones. I had to find a recipe that would at least hold a candle to what she was going to do. I found a recipe in DRAFT magazine that looked interesting and adapted it to make Chipotle Beer Braised Short Ribs. I have to admit, they were delicious and I would definitely make them again!
Level of Difficulty: Moderate
Time Required:Prep Time – 15 min; Cook Time – 6 hours
Ingredients:
2 1/2 pounds short ribs
salt
pepper
1/4 c. olive oil
1/2 carrot, chopped
1/2 celery stalk, chopped
2 cans Chipotle peppers in adobo sauce
2 limes, quartered
1/2 bunch cilantro
16 oz. beef stock
1 stick unsalted butter
1/4 c. fresh lime juice
12 oz. Pale Ale or "Hearty" Beer (in other words…nothing that says "Light")
Special Equipment and Other Items Needed:
Preparing Chipotle Beer Braised Short Ribs:
Preheat oven to 250 Degrees. In a large sauté pan, heat oil over high heat. Season the short ribs with salt and pepper. Sear both sides until browned. Remove from heat and place in large roasting pan.
Add the celery, carrot peppers, lime, cilantro, beef stock and beer.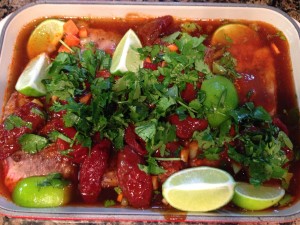 Cover tightly with foil and roast 5-6 hours, or until the meat easily pulls from the bone.
When the ribs have cooled, remove meat from the bone and set aside. Strain the liquid from the pan into a pot and add the butter, lime juice, salt and pepper. Cook over medium heat until the liquid reduces enough to lightly coat the back of a spoon. Put the meat back in the juice. Serve.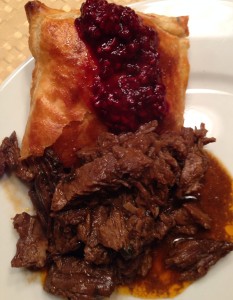 Important Tips:
You can't rush these. Slow and steady is the key.
Meal Ideas:
I served this with blue cheese puff pastry with blackberry sauce and roasted rutabaga and Brussels sprouts.
Ok, so here is Denise already breaking the rules. We said that when you 'announce' what you are going to make you have to stick with it. No where did Denise announce she was going to use a major ingredient such a beer to braise her short ribs. Maybe now, she won't whine so much about me 'breaking' the rules. ~Melissa

Well Ex-CU-U-U-U-SE ME!! My recipe clearly had beer in it. I must have forgotten to say that. I get nervous once someone says "it's recording". Sounds to me that the root of your issue is that you're afraid I'm going to win this one. Wa-wa WHAT?? ~Denise

Oh, right! That's it. I forgot that I'm still shaking in my 'I'm a chef' Boots! But thanks for giving away your 'I'm nervous' tell. You complain about rules = you're nervous I'm going to win.

~Melissa