Risotto is so good. It can be an appetizer, a side dish or a main course. You've got to love the versatility of it. Risotto is an Italian preparation of a short grain rice, usually Arborio.
It takes on flavor wonderfully and is rich and creamy and delicious.
When I first saw someone make it on a cooking show a long time ago, I was SO very intimidated. It became a special treat when I ate out and only then. Well, then somewhere along the line, I decided to make one. Just a basic one and realized it's not hard at all. It just takes your attention and patience.
Shoot, I've got two kids! I know a lot about attention and patience. So, now it is something I cook on a bit more frequent basis and I love changing it up to match the rest of my meal.
For Greek Week, I needed a starch to sit under my Shrimp Saganaki so I decided on a basic risotto with no cheese and no veggies. Just simple yet a perfect match for the shrimp.
In this post, you'll see how to make your basic risotto that will be your starting point/preparation for any risotto. At the end of the post, you'll get some ideas on how to make your risotto the star of your plate!!
Level of Difficulty:Moderate
Time Required: Prep Time – 10min; Cook Time – 20 – 30min
Ingredients for 4 side dish servings or 2 main course servings:
1 cup Arborio rice
~ 3 cups broth (for this recipe I used chicken broth)
2 shallots, diced
1/2 cup wine/alcohol
2T Olive oil
1T Butter
How to make a basic risotto:
First, get your stock/broth in a sauce pan and warm it up.
Next, in a wide pot, add the butter and olive oil over medium-high heat.
Add the onions or shallots and cook until translucent and soft.
Add the rice and stir to coat in the butter and oil. Let it cook a bit and get warm and start to toast. Probably 2-3 minutes.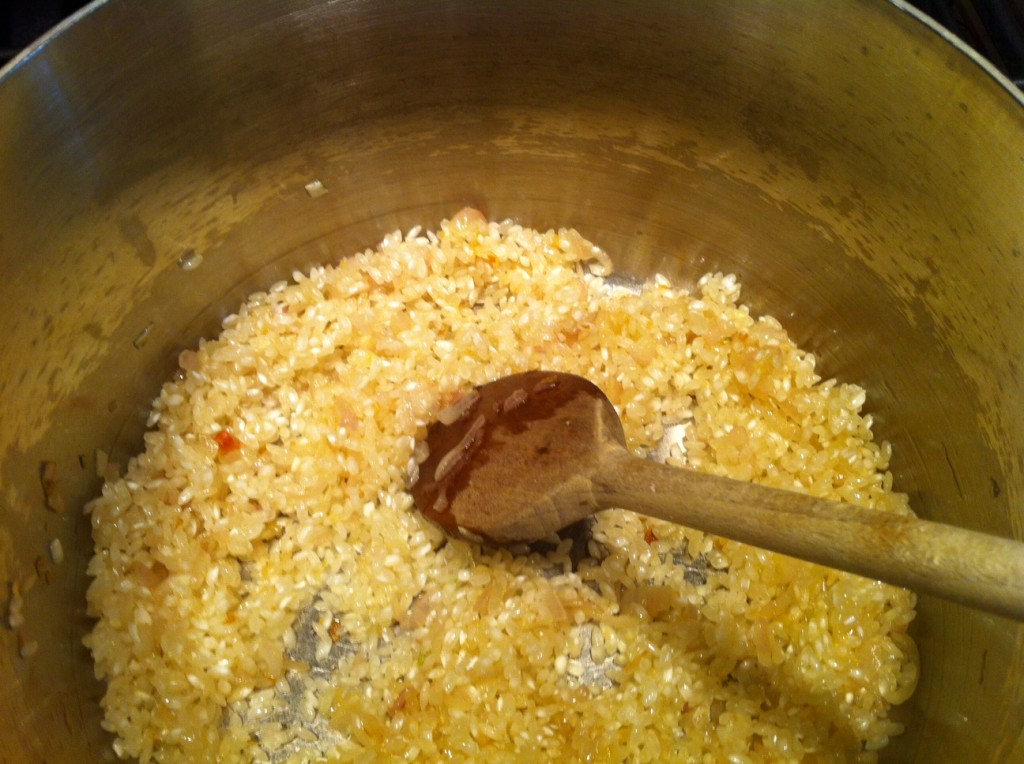 Add your wine/alcohol(off the flame so you don't cause a fire) and let it cook. Scrape up any brown bits from the bottom of the pot. (you don't have to do this but it does add a lot of flavor)
Once the wine/alcohol has been absorbed, add a ladle full of broth (about 1 cup). While stirring to incorporate. It should bubble up pretty quickly. If not, your pot is not wide enough or your heat is not high enough.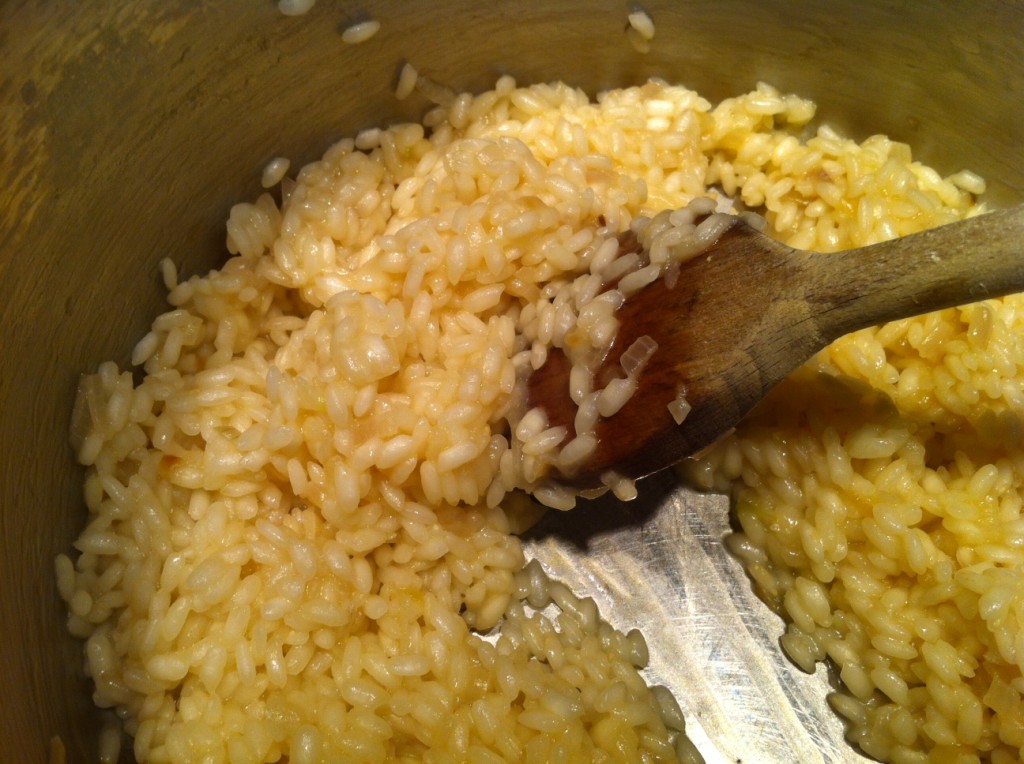 Stir frequently but not constantly. Just don't go check facebook in the middle of making risotto. Stay close by and keep an eye on it.
In fact, what I like to do is get this far early in my dinner preparation and then turn it off. Then when everything else is ready, come back and finish the risotto. Now, I don't mean hours in advance. More like 20-40 minutes.
Otherwise, make sure everything else is essentially ready before you start the risotto because it is going to take your time.
Ok, so back to it. We had just put in one ladle full of broth into your rice. Once it is absorbed, add another ladle full of broth and stir. For one cup of Arborio rice, you generally need 3 cups of broth. I generally heat 4 cups because it is a finicky thing and you won't know how much you need until you cook it. So, just watch for plumpness and taste after you've added about 2 1/2 cups of liquid. It should have a little bit of firmness but certainly not crunchy and definitely not like oatmeal!! So, just keep adding a little bit of broth at a time, let it absorb/evaporate, repeat until done.
If you are adding veggies, have them already lightly steamed or sautéed (see notes below) and add them at the same time you add the last of the broth.
If you are adding a cheese, add it at the very end when all the last broth is absorbed. Be sure to taste, salt and pepper as needed.
Important Tips:
Add broth slowly and let it absorb before you add more.
Use a pan that has a lot of surface area (aka a large base, at least an 8″ pot) to help evaporation.
Variations:
This is where it gets exciting. Anything (within reason) will work.
First variation on a basic risotto: change the broth! Choose between beef, vegetable, chicken, lamb, mushroom, or seafood stock (just one of them).
Second variation on a basic risotto: Vegetables!! Add any lightly steamed vegetables or sautéed veggies. This includes starchy vegetables like corn. For something like spinach that will cook in just a few seconds, add it raw at the very end and it will cook with the heat of the risotto.
Third variation on a basic risotto: Try different liquors/wines in the deglaze step. White wine, red wine, certain liqueurs too. Maybe even a hoppy ale or a rich stout. Experiment! Remember, the worst thing that can happen is that it will not taste good. So what!!
Fourth variation on a basic risotto: Cheese! Traditionally you add parmigiano reggiano. In the basic one I made I did not add any cheese because feta was in the main dish and a side dish and that was enough. But, you can try other hard cheeses like that or cheeses like feta or even a bit of goat cheese. I'd probably not do something like cheddar or American or provolone, but mozzarella, fontina, aged gouda would all work well.
I'm sure there are so many other ways to change up a risotto. It's soooooo gooooood!