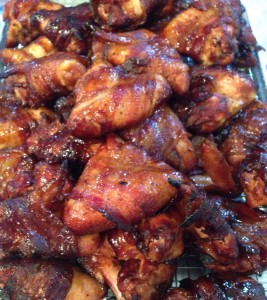 Oh-My-Goodness!! I don't even know where to begin….I guess I'll start from the beginning.
About a year ago, we hosted a Baconfest. I have been trying to remember how the concept even began, but at the end of the day, it doesn't really even matter. Since then, we have had a Winefest, Cheesefest, Bourbonfest, and Beerfest. Once the weather started turning nice, talk about Baconfest – The Sequel started coming up. I was hesitant since I wanted to try something new and different. Clearly, I was outvoted and Baconfest – The Sequel came to be this past weekend.
I had planned on making a Bacon Bowl filled with cheese, Bacon Soup Shooters, Double Bacon Meatballs and Bacon Cheese Ball. However, as I was making the delicious but not at all healthy soup, it was clear to me that I needed to have a vegetable tray. It just didn't feel right to not have ANYTHING healthy. However, so I didn't break my own rule, I put a piece of bacon in the ranch dip!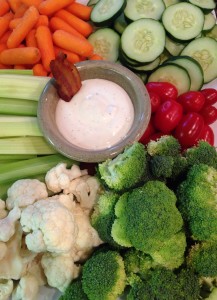 Aside from what I made (recipes will be posted this week) we had some outstanding and creative dishes brought by our guests. Some of the highlights were:
Bacon Wrapped Chicken Wings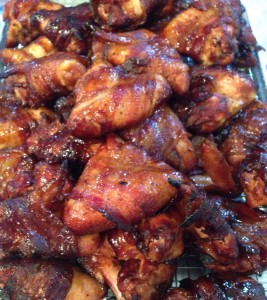 Broccoli and Edamame Bacon Salad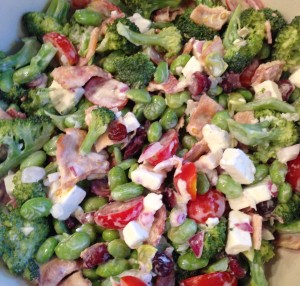 Bourbon Bacon Butter with Warm Bread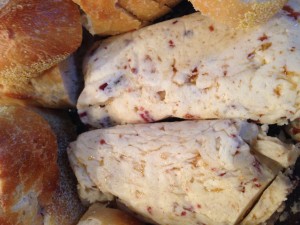 Bacon Stuffed Tomatoes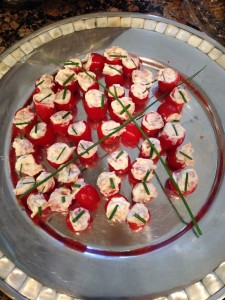 We also had some bacon jam, jalapeño and corn bacon dip, Ina Garten's Caramelized Bacon (my husband talked about this the next morning), spaghetti carbonara, bacon wrapped smokies, spinach salad with warm bacon dressing and bacon popcorn (that's right…bacon popcorn)! We were blessed to have an ice cream maker in the group and she made BACON ICE CREAM. Don't knock it until you try it. It was absolutely fantastic.
Never in my life have I hosted or been to a party where just about everyone showed up within the first 30-45 minutes of the "start time" AND we were sitting down eating in the same time frame. The food was really that good…and everyone knew it!!!