I did it! I finally "pulled a Melissa"! If you have been following our blog for a while, you know that I try to limit the trips to the store that I make in any given week and have a "weekly menu" set for my family. I deviate from it, but not often. Melissa, on the other hand, will go to the store almost on a daily basis and buy ingredients for dinner "that just look good." Then she goes home and whips up something delicious.
I have found and embraced The Dekalb Farmer's Market. That place is like the Mothership to me. If you live anywhere near Atlanta, you really should check it out. It's truly amazing. Anyway, when I went a few weeks ago to mostly buy herbs, spices and wine, I decided to check out the produce section. I came across these amazing looking baby squash. I just HAD to buy them. I was already buying fresh basil (because Melissa hasn't helped me plant my herb garden yet..ahem) so I thought I would make sautéed baby squash for dinner that night. There really is something to be said about eating FRESH ingredients.
Level of Difficulty: Easy
Time Required: Prep Time – 5 min; Cook Time – 5-10 min.
Ingredients:
Baby Squash (enough for your family)
3-4 cloves of fresh garlic, minced
1 T. fresh basil, chopped
1. T. Extra Virgin Olive oil
Salt and Pepper to taste
Preparing Sauteed Baby Squash:
In a medium saucepan bring water to a boil, add the baby squash for a couple of minutes, take out and plunge in an ice cold bath (a process called shocking). Drain. Heat oil in a medium sauté pan over medium heat. Add garlic and basil and cook for 30 seconds. Add the squash and cook for about 5 minutes, stirring frequently to coat with garlic and basil. Add salt and pepper to taste!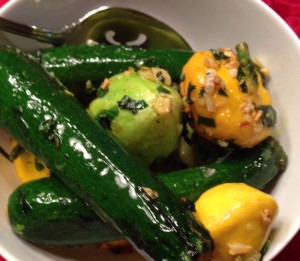 Important Tips:
Don't overcook the vegetables. Cook them just enough so they are hot but still crunchy!
Way to go Denise! Those little baby squash are so adorable. And, I'll get over there and plant that herb garden for you!! Really! ~Melissa